Coronation Street star Lucy Fallon: Bethany should get Gail Tinder for Christmas!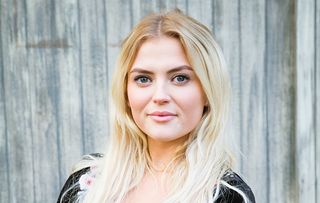 (Image credit: Mark Bruce)
Lucy reckons Gail could do with the app!
Corrie's Platt family don't often have a merry Christmas, and when the four generations get together for a festive lunch in the Bistro this year, it looks like trouble is on the menu...
Lothario Lewis is acting shiftily – and Nick can't help wondering if his beloved gran is being taken for a ride once again. Could poor Aud be headed for heartache?
Coronation Street stars Lucy Fallon and Tina O' Brien  – who play Bethany and Sarah - give a flavour of the drama to come, and reveal what they're up to away from Weatherfield…
What Christmas presents would you buy for your characters?
Lucy: "I think Bethany needs some new clothes; her fashion sense has gone a bit dodge in the past few months, and she's not on trend any more. Or she could do with a nail course. She took Kylie's place at the salon and she needs a qualification." Tina: "I think Sarah needs a house! She's sleeping on a lilo at the minute, so she could do with her own space."
And what would you buy for the other members of the Platt household?
Lucy: "Gail likes a polo neck jumper or a trench coat. Or maybe I'd get her a subscription for Tinder so she can go on a date - because apparently, you have to pay for it. Sarah could do with a spa day and I don't think David would be grateful for anything, so he could just have a crate of beer." Tina: "I'd get Bethany vouchers for clothes. She's about 19 in the show and girls that age are into clothes, make up and fashion. For Gail, maybe a really good box set or a nice TV so she could watch netflix in her bedroom. And I think David would like a car."
How does this Christmas fare for Sarah and Bethany?
Lucy: "This one's quite good for Bethany; she's working at the Bistro on Christmas Day, but all the Platts are there and they're exchanging gifts." Tina: "Christmas Day is a bit of a sore point for Sarah, because Gary's off with the other woman – he decides to spend Christmas with Nicola and their son Zach. She's pretty miffed, especially as she finds out that he's spent more money on presents for Zach and his other son, Jake, than he's spent on Sarah's son, Harry."
 What's in store when the Platts have their Christmas dinner?
Lucy: "There's a lot of bickering, but Audrey has come into money and she has an envelope for everybody, and says they won't get it if they don't behave. She's promised them big things. They all think they're getting twenty grand." Tina: "She does something really lovely, but it's not what the Platts have been expecting. I, personally, think they're a bit ungrateful!"
Nick notices Lewis behaving shiftily, and starts to investigate. How would Sarah and Bethany feel if it turned out that this leopard hadn't changed his spots?
Lucy: "Bethany's trust in men is quite low after what she's been through. I think she would be quite angry and she could potentially want revenge." Tina: "Sarah's had it in the ear about Lewis from Gail, but her gran is happy, so she has given him the benefit of the doubt. She'd be very upset if she discovered he hadn't changed, but the Platts are very loyal and always pull together in a crisis."
How will you be spending Christmas Day away from Weatherfield?
Lucy: "We're going out this year - there's 22 of us. It's to a little bistro-type restaurant but it's small, so hopefully there'll only be us in there. It's not the same as staying in, but hopefully we'll make it just as good." Tina: "My daughter Scarlett's dad (Ryan Thomas, who played Jason Grimshaw) is doing panto, so I'm spending Christmas morning with her and then she's going to him, and me and my partner Adam, our little boy Beau and my mum and dad are going out for Christmas dinner to a lovely pub near us."
Do you have any New Year's resolutions?
Lucy: "I never make them because I never stick to them. Maybe my resolution should be to make resolutions!" Tina: "I want to lose a bit of weight. I was watching myself on screen the other day and I was like "Oh my god, I've got a big fat munchkin head!" The problem is, I've got no willpower. If I'm offered wine, pudding, cheese and biscuits, I'll just say yes to it all. I need to say no!"
2019 will soon be upon us – what would you like to see happen to your characters next year?
Lucy: "Something awful! It's a bad thing to say, I know, but something dark and terrible to get my teeth into." Tina: "I'd like Sarah to do something naughty. If I were one of the writers, I'd take her out of her comfort zone. She's a bit happy and settled, and I think maybe she needs to be thrown a curveball…"
Coronation Street continues on ITV.
Get the latest updates, reviews and unmissable series to watch and more!
Thank you for signing up to Whattowatch. You will receive a verification email shortly.
There was a problem. Please refresh the page and try again.