David Jason: Still Open All Hours is full of barminess this Christmas!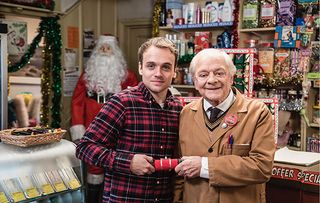 (Image credit: BBC/Gary Moyes)
David Jason returns as Granville in the Still Open All Hours festive special…
While TV Times is enjoying a cuppa, Granville (David Jason) is sorting through some dodgy-looking stock in Still Open All Hours.
But aside from son Leroy (James Baxter) stacking shelves, Arkwright's seems oddly quiet…
We're at Pinewood Studios to watch filming for Still Open All Hours, which returns for a seven-part series this week, beginning with a festive special in which Granville devises a cunning plan to sell boxes of unpullable Christmas crackers.
In between scenes, David Jason, James Baxter, Tim Healy (Gastric) and Sally Lindsay (Kath) tell us more about Still Open All Hours festive episode…
[check out more Christmas features]
What's Granville up to this Christmas?
David Jason: "More of his ridiculous schemes in order to extract cash from his gullible customers!"
Tim Healy: "Also Mr Newbold [Geoffrey Whitehead] has decided to do a runner, leaving Mrs Featherstone [Stephanie Cole] alone and free to seduce Granville, so he enlists Gastric's help to stop him. Granville finds out that Mr Newbold once had visions of a fairy, so he gets Gastric to dress up in a fairy outfit and convince him to stay. It'll make sense when you see it!"
David: "I'm always surprised at the sheer inventiveness of the show's creator, Roy Clarke, who has provided us with another batch of barminess this year!"
What else can we expect from Arkwright's regulars this series?
Tim: "Gastric is still trying to impress Madge [Brigit Forsyth], so he tries to lose weight and also enters an art competition. But of course it all goes wrong!"
Sally: "Kath is always being pursued by Eric [Johnny Vegas], who's trying to recreate this wedding bliss they keep saying they used to have."
James: "There's a new love interest on the horizon for Leroy and he comes up with many different tactics to try to woo her, not all of which are successful!"
Still Open All Hours – starring David Jason - is on BBC1, Thursday 28 December, at 7.30pm.
Get the latest updates, reviews and unmissable series to watch and more!
Thank you for signing up to Whattowatch. You will receive a verification email shortly.
There was a problem. Please refresh the page and try again.