David Walliams: 'I wanted to capture the spirit of old war films in Grandpa's Great Escape'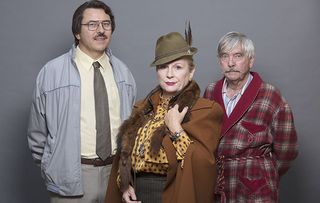 (Image credit: BBC/King Bert Productions/Graeme)
Jennifer Saunders stars in a spellbinding adaptation of David Walliams' novel Grandpa's Great Escape about a former spitfire pilot and his grandson
A star-studded adaptation of David Walliams' much-loved children's novel Grandpa's Great Escape is airing this New Year. It centres on young Jack (Kit Connor) and his Grandpa (Sir Tom Courtenay), who was a World War Two pilot but now suffers from Alzheimer's disease.
Jack's dad, played by David, sends Grandpa to live in chilling old people's home Twilight Towers, run by the terrifying Miss Dandy (Jennifer Saunders). But the elderly war hero makes a bid a freedom with Jack's help. Will Grandpa get to fly one of his beloved spitfires again?
Here, David Walliams and Jennifer Saunders tells TV Times about Grandpa's Great Escape, which is on BBC1 on New Year's Day at 6.55pm…
TV Times: What was your inspiration for the story of Grandpa, David?
David Walliams: "A few years ago there was a veteran soldier in the news who escaped from an old people's home to go to a reunion with his friends for the anniversary of the Normandy landings. I was intrigued by that idea of escaping - although he'd really just walked out of the door! - and I thought about The Great Escape. I used to love watching old war movies with my dad and I wanted to capture the spirit of those films. But I also remembered how I loved spending time with my grandparents. I had a great connection to them as Jack does with Grandpa."
TVT: Did you always want to get Sir Tom and Jennifer involved?
DW "Definitely; they are heroes of mine. Tom is a legendary actor and I love Jennifer and have had the pleasure of working with her before. I was chuffed they both agreed, I feel very lucky." Jennifer Saunders: "It has been completely lovely doing Grandpa's Great Escape. I did The Boy in the Dress with David before and that was such good fun. He writes such great, well-drawn characters and although they are kids' books, they deal with grown up issues. They are also very funny."
TVT: What can you tell us about Miss Dandy Jennifer?
JS "It's a joy playing Miss Dandy with this giant bosom, which David thought was mine and was disappointed when I took it off! It is a cracking character and I loved the book illustration and wanted to make her really mad-looking. She's a nasty psychopath with no love in her. It was great filming in a creepy, dilapidated house that was perfect for Twilight Towers."
TVT: Does it feel lovely to have been part of the Christmas TV schedule for several years in a row David?
DW "I love it because there's not much like this on television and it's just great being part of Christmas. When you were a kid, it's where all the most-loved performers were in all those Christmas specials of yesteryear like The Morecambe & Wise Show and The Two Ronnies. I just love sitting watching Christmas television stuffed full of Stilton!"
Grandpa's Great Escape airs on New Year's Day on BBC1 at 18.55pm
Get the What to Watch Newsletter
The latest updates, reviews and unmissable series to watch and more!
Caren has been a journalist specializing in TV for almost two decades and is a Senior Features Writer for TV Times, TV & Satellite Week and What's On TV magazines and she also writes for What to Watch.
Over the years, she has spent many a day in a muddy field or an on-set catering bus chatting to numerous stars on location including the likes of Olivia Colman, David Tennant, Suranne Jones, Jamie Dornan, Dame Judi Dench and Sir Derek Jacobi as well as Hollywood actors such as Glenn Close and Kiefer Sutherland.
Caren will happily sit down and watch any kind of telly (well, maybe not sci-fi!), but she particularly loves period dramas like Call the Midwife, Downton Abbey and The Crown and she's also a big fan of juicy crime thrillers from Line of Duty to Poirot.
In her spare time, Caren enjoys going to the cinema and theatre or curling up with a good book.