EastEnders star Sean Mahon: 'Someone nearly attacked me on a train because of Ray!'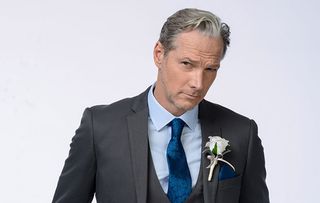 (Image credit: BBC / Kieron McCarron)
Sean Mahon reveals the perils of playing EastEnders' cheating Ray as his big New Year's Day wedding with Mel ends in horror…
Ray Kelly thinks he's got his life – and lies – all sewn up as he prepares to bigamously re-marry his ex-wife Mel in an EastEnders New Year's Day wedding. So it's game on for the sly copper when he realises the ceremony is a set-up, and that Mel knows all about his double life and is intent on revenge. But since Ray is a dangerous man, when events spiral out of control it leads to a sinister and potentially deadly showdown in the woods, as Sean Mahon, who plays Ray, reveals…
WOTV: Tell us what happens between Mel and Ray in the woods?
Sean Mahon: "There's a lot of danger! I think what you'll find is that things turn themselves on their heads. It takes it out of the world of the Square and gave it a somewhat filmic quality and you can tell there's a lot of foreshadowing in terms of the tone and the feel. So the fact it's in woods… well, there's a danger that comes with that world."
WOTV: Is Hunter involved?
Sean Mahon: "Yes. He's great and the dynamic that the three of us have happened very fluidly and it certainly plays into everything, so there's a lot that impacts the family over New Year, very much so."
WOTV: You filmed those scenes at night. Was it cold and wet?
Sean: "We filmed for four days and four nights and actually it was remarkably, unseasonably warm, it was great!"
WOTV: What's been the public's reaction to your character?
Sean: "It's gone through cycles. At the beginning there was a lot of affable reaction to me on the street but it's gotten a little bit darker and I had someone nearly attack me on a train! I think the person was probably out of their head but they recognised me, ran up and down the platform after me, jumped on the train after me and then started some aggressive talk and then got off the train!"
https://youtu.be/6Ni9iuW7dwU
WOTV: Were they sticking up for Mel?
Sean Mahon: "She was like, 'who do you think you are?' and that kind of thing, so that was the extent of the high drama of it!"
WOTV: Other than those kind of reactions, do you like playing the villain?
Sean Mahon: "Yes, it just gives you so much opportunity to go so far with things and it's a great chance to play parts of you that you don't get to exercise in life!"
Don't miss Mel and Ray's wedding day in a one-hour episode of EastEnders on New Year's Eve at 8:00pm on BBC One
Get the latest updates, reviews and unmissable series to watch and more!
Thank you for signing up to Whattowatch. You will receive a verification email shortly.
There was a problem. Please refresh the page and try again.