Little Women is 'very charming and funny,' says star Emily Watson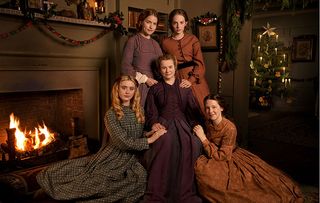 (Image credit: BBC/Playground/Patrick Redmond)
Emily Watson has revealed all about starring in a lavish new adaptation of the classic novel Little Women, which begins on BBC1 on Boxing Day at 8.00pm
Emily Watson has spoke to TV Times about BBC1's big Christmas drama, Little Women… It wouldn't be Christmas without a new adaptation of a classic novel. This year it's Louisa May Alcott's 1868 coming-of-age tale Little Women coming to our screens, in a new three-part version written by Call the Midwife's Heidi Thomas.
Boasting a starry cast featuring Angela Lansbury, Michael Gambon and Maya Thurman Hawke (the daughter of film stars Uma Thurman and Ethan Hawke in her debut role), it follows the story of the four March sisters as they grow up, fall in love and tackle adversity
Emily Watson, who recently starred in BBC1 thriller Apple Tree Yard, plays their mother (known as 'Marmee'), and here she tells TV Times what's in store in Little Women
Why did you want to play Marmee?
Emily Watson: "She's an extraordinary woman and an incredible mother, she and her husband think about things very deeply. They raise their daughters to be good people first and foremost but give them space to make mistakes rather than micromanaging them. The first thing you see them doing is giving away their breakfast to refugees at Christmas, it's about teaching them to give to people less fortunate. I was amazed by her, what a great parent she was – I found it hard to live up to!"
Were you a big fan of the book?
EW: "I absolutely loved it as a kid, I wanted to be Jo! It's about the thrills and spills of being a teenage girl: falling in love, sibling rivalry and the electricity of having four young women in the house. But I hadn't thought about it for decades and when I first started wrapping my head round the script I was surprised how much it spoke to me".
[Check out more Christmas TV features]
How does this adaptation compare to others?
EW: "I've seen the [1994] film with Winona Ryder and Susan Sarandon, which is lush and gorgeous. This one has a freshness to it somehow, it's very charming and funny, but I also like the way we look at adolescence and the pain of grief. Plus we have Angela Lansbury, who is wonderful – she's sharp as a whip, and playing a strong acerbic character, she brings so much to it."
Is it exciting to be part of a big Christmas drama?
EW: "Yes, I've never really done anything like this before – it's a bit before the watershed for me! What's nice is that I am actually going to sit down with my kids and watch it at Christmas. They came over to Ireland for the summer while we were filming, and played with the kittens on set, so they feel very much part of the production, it was really exciting for them. They were awestruck by the four beautiful and incredible actresses playing the sisters."
Little Women begins on BBC1 on Boxing Day at 8.00pm.
Get the What to Watch Newsletter
The latest updates, reviews and unmissable series to watch and more!