Romola Garai on BBC1's Boxing Day drama: 'The Miniaturist plays with expectations'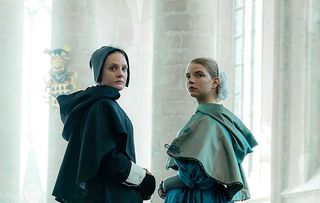 (Image credit: The Forge/BBC/ Laurence Cendrowi)
Romola Garai reveals all about starring in haunting 17th century thriller The Miniaturist
Jessie Burton's best-selling 2014 novel The Miniaturist, which explores intrigue in 17th century Amsterdam, is brought to life in a stunning two-part BBC1 adaptation. The drama stars Romola Garai as the icy sister-in-law of young Nella Oortman (Anya Taylor-Joy). Nella's new husband Johannes (Alex Hassell), Marin's brother, gives her a wedding present of a cabinet containing a replica of their home. But when the doll's house begins to eerily echo the family's lives, the dark secrets that Marin has battled to protect unravel.
Romola Garai tells TV Times more about her role in The Miniaturist, which will be on BBC1 on Boxing Day at 9.00pm…
TV Times: How would you describe Marin?
Romola Garai: "She's the controller of the house's secrets. Although she's a force to be reckoned with, she's afraid because she's hiding something that means her eternal soul is damned... She seems malicious and cold but when you realise why, she becomes sympathetic. Marin and Nella are allied in protecting the household from outside forces."
TVT: Were you a fan of the book?
RG: "Yes, I loved it! It's a page-turner and so much is brilliantly woven in. When you see the house and the dolls, you wonder if it's a thriller or there's magic going on. It plays with expectations and explodes preconceptions about that era. We see how 17th century Amsterdam was a fundamentalist police state governed by the church and how people were inhibited and unhappy."
TVT: Did you get to keep the miniature version of your character from the doll's house?
RG: "No, which is a mixed blessing because she is scary and the eyes follow you around the room! It's like a little superhero doll though and the closest I'll get to having an action figure."
TVT: Nella has a parakeet, Peebo, and Johannes has a dog, Rezeki, what was it like working with them?
RG: "Polly, who plays Peebo, was very professional; she sees this as her big break! But Mr Scraps, who plays Rezeki, is gorgeous but hopeless. He needed to attack someone's leg and bark but he could only do it if he heard the sound of a flushing toilet. The trainer had to play that on her phone while we were doing very serious scenes!"
The Miniaturist airs on Boxing Day and Wednesday 27 December at 9pm
Get the latest updates, reviews and unmissable series to watch and more!
Thank you for signing up to Whattowatch. You will receive a verification email shortly.
There was a problem. Please refresh the page and try again.