Audrey 'receives' messages from her long gone husband Alf in Coronation Street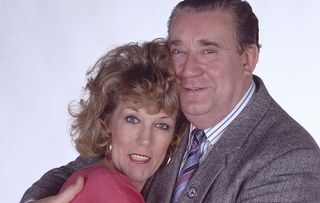 (Image credit: ITV/REX/Shutterstock)
When one of Audrey's clients, a clairvoyant, says she has been in contact with Alf, Audrey books an appointment with her, keen to hear more.
Audrey makes an appointment with Rosemary, a client who claims to have made contact with Alf. But Gail and Maria are sceptical and warn Audrey they think the so-called clairvoyant is a fraud. Is Audrey being duped and heading for heartache?
(Main pic credit: ITV/REX/Shutterstock)
Audrey receives messages from the dead in Coronation Street
Maria warns Audrey that clairvoyant Rosemary is a fake.
Audrey is convinced Rosemary is the real deal and makes a booking with her, despite Gail also advising her mum against it.
Rosemary tells Audrey she is in contact with her dead husband Alf.
Audrey is shocked when Rosemary says she also has a message for Gail from her dead husbands. Will Audrey believe her? Watch all the drama in Coronation Street from Monday, 12 March!
Get the latest updates, reviews and unmissable series to watch and more!
Thank you for signing up to Whattowatch. You will receive a verification email shortly.
There was a problem. Please refresh the page and try again.