Caz's plan is working as Maria loses the plot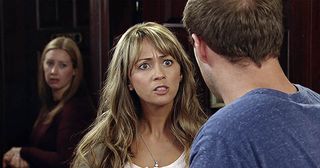 Preview of all the key storylines in Coronation Street, including Maria's increasingly ragged behaviour at the hands of Caz's manipulations
You would think things couldn't get any worse for Maria Connor in Corrie, when all her clients cancel after word gets round that she is a murder suspect. But they do, when she realises someone is definitely setting her up.
Meanwhile, with Anna recovering from her injuries, Kevin tells David he will pay for the crash that caused them. The Nazirs are still in turmoil, Bethany's still unlucky in love, and Luke is warned to stay away from Tracy. But it's not all bad, as Michael gets one up on Phelan. But at what cost?
Maria is horrified to find her hairdressing scissors covered in blood. Someone wants to see her framed for killing Caz…
Earlier, she had thought Tyrone and Michelle had been bitching about her in the Rovers
She confronts them, but has she made a mistake?
She confronts them, but has she made a mistake?
Michelle tries to explain, but Maria is in a rage and shoves pregnant Michelle, endangering her baby!
Meanwhile, when David says he's going to visit Anna, Gail and Michael go instead, for fear that David will come clean about the crash
Kevin tells David he will never forgive him for causing Anna's injuries. Watch your back David!
Bethany's having a bad week, too, as she spots mum Sarah cosying up to Gary, even though she'd planned a romantic dinner with him
Over at the Rovers, Michael can't stand by and watch Phelan and Vinny fleece Freddie, when Phelan suggests a poker game. So he pulls up a chair and joins in
Michael must have kept his cards close to his chest, as he ends up cleaning out Phelan. But will Michael end up the loser now he's made an enemy of the crooked builder?
With the Nazir family blown apart by last week's revelations, Yasmeen discovers that husband Sharif has gone to stay with cousins in Newcastle. Will he ever return?
After causing Tracy to drop her phone and smash it, Luke offers to buy her a drink as way of an apology
But Robert warns him off, saying she's a headcase. Will she prove Robert right? Watch Corrie on ITV from Monday, 7 November
Get the latest updates, reviews and unmissable series to watch and more!
Thank you for signing up to Whattowatch. You will receive a verification email shortly.
There was a problem. Please refresh the page and try again.