Coronation Street's Bhavna Limbachia: 'We owe it to the Kana fans to be honest about who Rana is'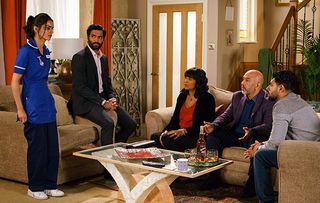 (Image credit: Mark Bruce)
Coronation Street star Bhavna Limbachia thinks that Rana needs to come clean to her family about her affair despite the consequences.
Corrie's Rana has only just confessed to her stunned hubby Zeedan that she's in love with someone else. But his shock and disapproval may end up being the least of her worries, actress Bhavna Limbachia has told Soaplife…
What's the story?
Since she confessed to Zeedan about being unfaithful, Rana's been dreading her family's reaction to the news that she loves someone other than her husband and fears they will disown her – especially if they find out she's fallen for another woman.
"Rana feels she has only just won her family's trust and respect," Bhavna Limbachia has revealed to Soaplife. "She knows that she could be completely on her own if they were to find out the truth as both they and community would reject her."
What's happening in Coronation Street? See the latest soap storylines.
Bhavna Limbachia's interview with Soaplife
Soaplife: Why she did 'fess up to Zeedan in the first place?
Bhavna Limbachia: "To all intents and purposes, the affair with Kate was over but Rana just couldn't cope with the guilt. She didn't do it to clear the way for her and Kate but wanted to move on with Zeedan with no more secrets."
S: When the family find out, is it the reaction she expected?
BL: "They are disgusted with her for being unfaithful to Zeedan and let her know that they were just waiting for her to mess up. They have always seen her as a disappointment and the marriage to Zeedan was the first time she'd done something they approved of."
S: Why has she always been a disappointment to them?
BL: "The many boyfriends she's had, her party girl reputation. . . By marrying Zeedan, Rana proved them wrong but now her mum says they always expected her to mess up which is one of the most hurtful things a parent could ever say."
S: Yasmeen finds out – how does she react?
BL: "Rana is dreading her grandmother-in-law's reaction but Yasmeen is actually quite reasonable and supportive, although naturally she's protective of her grandson. Yasmeen tries to be fair and understand both sides of the situation – unlike Rana's parents."
S: Does Rana still love Zeedan?
BL: "Yes, but she's not in love with him. Rana has never labelled herself as gay or bisexual but this is the first time she has fallen for someone and that person happens to be a woman. Rana doesn't want to hurt Zeedan as she genuinely loves him but she is in too deep now."
S: Did you feel it was important for Rana to come clean?
BL: "There are many 'Kana' fans out there and we owe it to them for Rana to be honest about who she is. Hopefully it will encourage conversations in households within every community and let some people feel able to be honest about who they are."
S: Do you think Kate and Rana can have a future?
BL: "It will be interesting to see how it develops once the whole story is out in the open. The reaction of Rana's family is going to play a huge factor in whether Kate and Rana can ever be together but I hope they can."
Get the latest updates, reviews and unmissable series to watch and more!
Thank you for signing up to Whattowatch. You will receive a verification email shortly.
There was a problem. Please refresh the page and try again.