Daniel does his best to stem the blood flow and save Chesney, reveals Corrie's Sam Aston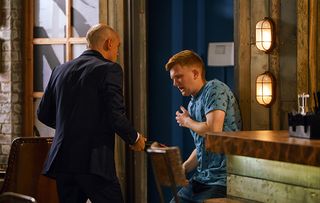 (Image credit: Mark Bruce)
Coronation Street's Chesney Brown is at death's door after he's attacked in the Bistro! Sam Aston told Soaplife what happens…
One minute, Chesney is loving life, the next he's literally fighting for it! Having reconciled with former girlfriend Sinead Tinker, he goes to the Bistro to try to make peace with his former love rival Daniel Osbourne.
"Chesney walks through the door of the Bistro full of good intentions," Sam Aston told Soaplife. "But it's a case of him being in the wrong place at the wrong time! There's a struggle going on between Robert Preston and drug dealer Rich, and Chesney gets caught in the crossfire!"
And guess who ends up helping to save his life?
It's Daniel who helps save Chesney, right? "Yes! Daniel [Rob Mallard] does his best to stem the flow of blood and he keeps talking to him to try to keep him conscious. It shows Daniel's a decent person. Even after all the stuff they've been through, he sees Chesney in that state and comes to his aid."
Will Chesney and Daniel become buds after this? "I can't see them sitting in the Rovers having a pint together, but their relationship in the future will be different after this."
And how are Chesney and Sinead doing? "It's a strange one because they both really want it to work. But when they're both trying so hard, sometimes it's a bit too much. It's awkward, but the intention is there."
Why does Chesney like Sinead so much? "She's quirky, she's very different and they're a good match. Sinead [Katie McGlynn] is very honest and Chesney worships the ground she walks on. He loves her so much. They've obviously had problems recently, but he still wants to make it work. He does worry that Sinead might still have feelings for Daniel, though."
Is that why he's trying to be more like Daniel? "Yes. Chesney's trying to be everything that Daniel is. For example, he sees that Daniel has loads of literature and academic books, so he thinks this is what Sinead must like and he tries to be more intellectual to impress her. Bless him for trying!"
Coronation Street, ITV
Get the latest updates, reviews and unmissable series to watch and more!
Thank you for signing up to Whattowatch. You will receive a verification email shortly.
There was a problem. Please refresh the page and try again.