Chesney's heart is broken - by Schmeichel!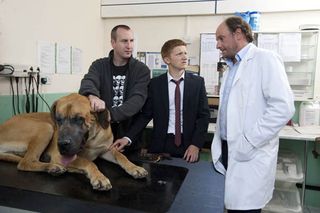 Coronation Street's Sam Aston talks to Soaplife about how Chesney has more to cope with than a jailed sister and a dead brother-in-law... His beloved Great Dane Schmeichel is dying! First, Chesney has to cope with John's death and his funeral. How does he feel about all that? "He's not too bothered - he never liked the guy. But he is bothered about how John's death affects Fiz. She tells Chesney that she wants to be able to tell Hope that her father was given a decent funeral. Fiz wants as many people there as possible so that she has some memories of the occasion that she can pass on to Hope in future years. For that reason alone Chesney agrees to organise it." How does Chesney feel at the crematorium, seeing Fiz handcuffed to a guard? "It's soul destroying for him. He loves her more like she's his mum. It's made even worse for him as he knows that she's innocent. He feels utterly useless as he can't do anything to help her." Then, after the funeral, he arrives home to more bad news: Schmeichel is seriously ill! "He knew Schmeichel was off his food, but he was thinking that his dog was just a bit under the weather. When he discovers that Kirk has taken him to the vets and it's really serious, it's the worst news for Ches." How does Chesney react when the vet suggests his dog should be put down? "That's not even the last resort in Chesney's mind. Having his beloved dog put to sleep is not an option Chesney is willing to consider. Schmeichel has always been there for him; when Cilla, Les and even Fiz let him down, Schmeichel was always there. Chesney would do anything it takes to help out his faithful pal. He would go thousands of pounds into debt if he has to." And he tells the vet to perform expensive surgery. How is he going to pay for it? "The last think he's thinking about is money. He's just like anybody who has got a pet that they really love. The vet could have said it was a million pounds, but Chesney wouldn't care. He just wants his pet well again." Then Katy tells him they've received an eviction warning because they're behind on the rent. Will Ches let Katy's dad help? "In the end he has to. He's not working at the moment so he has got no money coming in. He has to swallow his pride because he has nowhere else to turn to." But then he uses the money Owen gives them to pay the vet! "The last thing Chesney wants to do is upset Katy, but he's not thinking straight at the moment. His dog is unwell and he needs the money. It really is an act of desperation." So what is Chesney's priority: saving his home or saving his dog? "He's not even torn between the two; his priority is saving his dog every time. The house is just bricks and mortar." Will you miss working with Schmeichel? "I will; he has been such a massive part of Chesney's character. The first thing people want to know when I'm out and about is where my dog is. He's probably one of the most popular characters on the show. It's horrible because I've grown up with him."
Get the latest updates, reviews and unmissable series to watch and more!
Thank you for signing up to Whattowatch. You will receive a verification email shortly.
There was a problem. Please refresh the page and try again.