Chris Gascoyne is back fired up for Corrie: 'As I get older I have more passion' (VIDEO)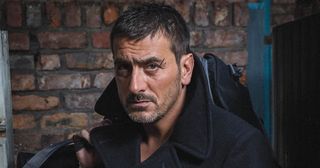 (Image credit: Mark Bruce)
Actor Chris Gascoyne has brought back a renewed vigour and a real passion for his bad boy character Peter Barlow in Corrie, he explains...
Corrie black sheep Peter Barlow returns to the Street next week and actor Chris Gascoyne says he's bringing a renewed passion and fire to the loveable rogue.
What's on TV asked Chris if he'd returned to the ITV soap energised after a two-year break.
"Definitely. You know, because you're two years older, you've had two years to work things out or just to be and do other projects, which fires you up and makes you think in a different way and you feel different... As I get older I seem to have more passion for stuff, so I have come back with an enormous amount of passion and things I'd like to explore and put into the show... 'That's interesting. I wouldn't have done it like that two years ago. I didn't feel like that two years ago.'
"There was a moment when I came back and I thought 'Oof, what do I do?' And then I was all right. Once I put the jacket and the boots on it was OK..."
Peter's mysterious return to the Barlow's residence leads to a disaster.
"He tells Ken he's been for a job interview, in the middle of the night, which comes straight off the top of his head, so obviously it's not true," said Chris. "They argue and in classic Ken style, Ken brings up that Peter been this and that, but it's only the things that Ken's been!
"He says, 'You let everybody down' and Peter says 'OK I know, but I'm trying not to' and then he pushes him and pushes him and Peter comes back at Ken with the argument that he's using and that's when disaster strikes, so it's very early on. I think I've only been back for a few scenes... and it hits the fan."
Watch the interview with Corrie star Chris Gascoyne, above.
Get the latest updates, reviews and unmissable series to watch and more!
Thank you for signing up to Whattowatch. You will receive a verification email shortly.
There was a problem. Please refresh the page and try again.