'Caught out?' Coronation Street's Colson Smith on Craig Tinker's secret obsession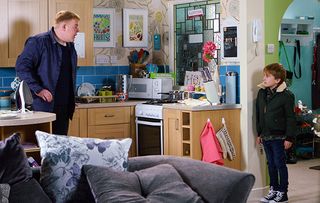 (Image credit: Mark Bruce)
Coronation Street's Colson Smith has admitted that Craig's secret OCD rituals may put his relationship with Bethany in new jeopardy.
Poor Craig Tinker is fearful that Bethany will discover the truth about his secret OCD rituals, Corrie's Colson Smith has told Soaplife - and it's getting harder for him to keep it under wraps.
What's the story?
Craig Tinker and Bethany Platt haven't had the smoothest of relationships. Bethany has agreed to patch things up after wrongly accusing Craig of getting her fired from the lap-dancing club. But she's furious when he doesn't show for their lunch date at the Bistro.
"She thinks he's stood her up," actor Colson Smith has revealed to Soaplife. "But it's Craig's Obsessive Compulsive Disorder that stops him from leaving the house because he has a number of rituals he has to do. He's interrupted by the phone ringing and loses count. He realises he's missed the date, but he must continue with the rituals before he can do anything else."
Craig's desperate to keep the OCD a secret, but then young Liam Connor happens to see him mid-ritual…
What's happening in Coronation Street? See the latest soap storylines.
Corrie's Craig Colson Smith talks to Soaplife about what is next for Craig and Bethany
Soaplife: First off, tell us about Craig's OCD…
Colson Smith: "It's ritual OCD and it started on screen with Craig only being able to leave home when the time is at an even number. But it's developed into these specific rituals, which we see Craig having to perform. While cleanliness and handwashing is a disabling and distressing OCD trait, the charity we consulted preferred us to go against the stereotype."
S: What is Craig's reaction when Liam sees him?
CS: "Craig's baby-sitting Liam at the time. Because Liam's a child, he lets his guard slip, telling him that he's keeping people safe by doing the rituals. Liam thinks this means Craig has magic powers and they agree it's their secret. But will a young child stay quiet?"
S: Does something change at that moment?
CS: "Liam finding out makes Craig realise what he's doing isn't normal, but there's no way out for him. The person he cares about most in the world is Bethany and he really believes his rituals keep her safe. He'll be really worried if anyone else finds out because he's trying hard to impress Bethany and be there for her."
S: How did you prepare for this storyline?
CS: "Through Corrie, I met an OCD sufferer. It was very emotional and he told me that while you know something is wrong, you don't know what… so you hide it from everyone. I'm trying to do that with my performance."
S: What was the trigger for Craig's OCD?
CS: "It was seeing the dead body of Lara on the railway tracks, which he initially thought was Bethany. Then he got the time wrong when he was supposed to be in court. Since then he's been drawing 24 hour clocks and he's developed an obsession with time, even numbers and now these rituals he has to perform."
S: What do you hope this storyline will achieve?
CS: "To help rid the stigma of OCD, help the sufferers and raise awareness and understanding."
Coronation Street, ITV
Get the latest updates, reviews and unmissable series to watch and more!
Thank you for signing up to Whattowatch. You will receive a verification email shortly.
There was a problem. Please refresh the page and try again.