Coronation Street autumn preview: Eight MASSIVE plots heading our way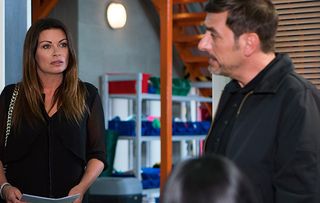 (Image credit: Andrew Boyce)
Passion, injustice and a blast from the past are all the agenda in Weatherfield...
As temperatures start to cool off, we're promised the drama will heat up in Coronation Street
1. Will Carla and Peter reunite?
Peter Barlow is back in bed with Carla next week – at least financially – after teaming up with her to buy Underworld. But as the former couple work alongside each other, will things progress from the office to the bedroom?
"Peter needs a business interest and Carla needs financial help, so Peter has convinced himself that he is doing this for the right reasons," says Coronation Street star Chris Gascoyne. "But it soon becomes clear that, for him at least, working together purely as business partners isn't going to be easy."
Carla has always insisted that she'll never go back to her ex, who memorably cheated on her with Tina McIntyre. But she can't help feeling drawn to the former Rover's landlord and, keen to see if this once philandering leopard has changed his spots, she sets him a secret challenge in the coming weeks.
Reveals Chris: "When interviewing for a new machinist, Carla is struck by how much like Tina one of the applicants is, so she decides to let Peter interview her and see how he handles it. She is testing whether or not he has changed. But will he pass the test? You'll have to wait and see!"
Adds Chris: "Peter is older and wiser, and maybe not as impulsive as he once was. He is going to prove that he can help run the business successfully, and then see what follows. But with Nick Tilsley about to arrive back on the scene, anything could happen!"
2. Sean admits to Billy that he's homeless
Poor Sean hits rock bottom next week when he's fired from The Rover's for stealing vodka for a friend in need. Penniless as well as homeless, he resorts to begging on a street corner.
But struggling Sean will soon get the support he needs, because in a forthcoming episode, he comes clean about his predicament to Billy.
The Vicar has his suspicions when he sees Sean at a food van for the homeless. When Sean's friend Carol is then attacked, and Billy helps him take her to hospital, Sean breaks down about his situation.
"Sean feels ashamed and, at first, he doesn't want to accept help," says star Antony Cotton.
"He thinks: 'I got myself into this situation and I'll get myself out of it.' It's all about pride – which is why he ended up homeless in the first place.
"But being homeless is such an enormous beast of a problem, so he does get to a point where he accepts that he needs help. He returns to the Street and says to Billy 'I can't do this on my own.'"
Billy offers Sean his sofa, and before long, Sean gets his old job back at the factory.
"Sean is a very positive person – he doesn't have a single enemy on the street," adds Antony. "So once something positive happens, he grabs onto that and goes with it.
"In my mind, he'll now do everything he can to get right back into the heart of the community. He'll want to be back behind that Rover's bar – bigger, bolder and better than ever."
3. Sally tries to prove her innocence
Remember that D-Ream song, "Things can only get better"? Unfortunately, the lyrics of that famous pop ditty aren't about to ring true for Sally Metcalfe. She's arrested next week after being framed for fraud by Duncan Radfield, but the situation will soon get even worse. Duncan claims that he and Sal were lovers, and she coerced him into stealing council cash. The conniving con artist has gone to twisted lengths to cover his back, and even Tim starts to doubt his wife's innocence.
"Duncan has set up lots of different things, including a couple of burner phones which she's had conversations with him on, so it looks like they've been having an affair," reveals actress Sally Dynevor.
"Sally says to Tim, 'I would never do that to you,' but he brings things up like 'Well, you nearly slept with Kevin the night before we got married.'"
To complicate matters, Sally's Solicitor, Paula soon finds herself distracted by another case – seducing her client's daughter, Sophie!
Corrie bosses promise that this is going to be one of the soap's big stories of the year, and will continue well into Autumn. What's more, Sal's case will go all the way to court. Will she become the latest Weatherfield woman to be wrongfully banged up?
Adds Sally: "The shame of that would be horrible for her. The fact that everybody on Coronation Street knew she'd gone to prison. She wouldn't be able to walk down the street again with her head held high, that's for sure!"
4. Jim McDonald returns – and tells Liz their daughter Katie is alive
Jim McDonald returns to Weatherfield on Steve's stag night, so he does, but it's not his son's marriage to Tracy that brings him back. He has staggering news for ex wife, Liz. In what Corrie bosses have described as an "explosive" storyline, he tells Liz that their daughter Katie - who supposedly died after her premature birth on New Year's Day, 1992 - is in fact alive and well, having been accidentally swapped at birth.
It's a shock admission – but an entirely plausible one. Ryan Connor was swapped at birth with Ali Neeson at Weatherfield General in the same month, of the same year. The shoddy midwife responsible for that mix up could easily have been on duty when Katie came into the world.
Actress Hannah Ellis Ryan has been cast to play Katie – who is now known as Hannah and has been raised in Australia. How will Liz cope when she sets eyes on her girl? And how will Steve feel about meeting his sister?
5. Gemma has a difficult decision to make…
Gemma Winter may have missed out on running The Rover's in Coronation Street, but as far as she's concerned, she's won the ultimate prize – Henry Newton's heart. The loveable loudmouth is smitten, and doesn't care that he's been cut off from his trust fund – afterall, who needs money when you can snog those luscious lips every day?
But Gemma's about to come toppling down from cloud nine when Henry's past catches up with him. The family of his former fiancé, Cressida, want him to pay back the thousands they shelled out for the wedding that never was. And they're threatening violence if he doesn't cough up.
With barely enough cash to buy Gemma a kebab, Henry's forced to resort to devious measures to find the readies, and comes up with the idea of a fake compo claim.
Reveals our Corrie insider: "Gemma's not happy when she realises that certain people on the Street, whom she's become close to, will end up suffering because of Henry's lies. But she also doesn't want Henry to get hurt, and knows that if he pays up, they'll be free to get on with their lives."
Will Gem opt to protect her friends or her fella?
6. Audrey secretly reunites with Lewis – but will she be rumbled?
Audrey Roberts once commented that you couldn't break wind on Coronation Street without everyone finding out. So the crimper should know better than to think she can have a secret relationship with lothario Lewis Archer without her daughter Gail finding out.
But Audrey's going to have a damned good try. When Lewis is released from prison in a few weeks, she decides to follow her heart, believing he truly loves her, and is no longer the conniving conman he once was. And, in a bid to spend quality time with the smooth-talker, she lies to Gail that she's going on a cruise.
Gail is deeply suspicious when she finds out that the boat Audrey claims to be sailing on is no longer in operation. Worried, she bobs round to Grassmere Drive to check that Audrey is okay – as a loved-up Audrey and Lewis are enjoying a romantic dinner. Will the couple's secret be unleashed? And if it is, how will Gail react to discover that her mam's making sweet music with the bloke who swindled her out of forty grand?
7. Leanne gets it on with Imran
Leanne's had little in the way of action since her engagement to Nick Tilsey bit the dust, but things are about to change! Landing an admin job at the Solicitor's, there's an instant attraction between her and Imran. And, before you can say "Judge Rinder", she's doing a lot more in that poky office than just photocopying.
But little does Leanne realise she's not the only one lighting Imran's fire. The lusty legal eagle ends up getting involved with another Weatherfield resident. Who is the mystery woman? And how will Leanne react when she discovers her lover's doing overtime with someone else?
8. Maureen Lipman arrives as "monster" Evelyn
Acclaimed stage and screen star Maureen Lipman is no stranger to Coronation Street – back in 2002, she had a short stint as Lillian Spencer; an old friend of Fred Elliott (we say Fred Elliott!), whom he brought in as a relief manager of The Rover's.
As we head into Autumn, Maureen will be back – this time playing Tyrone Dobbs' battle axe of a grandmother, Evelyn Plummer. Evelyn arrives in Weatherfield after Tyrone researches his family history in the wake of mum Jackie's recent death. We're promised that she'll soon rule the roost at number nine, and ruffle more than a few feathers.
Says Corrie producer Iain MacLeod: "Evelyn is eye-wateringly withering and will add a fresh dollop of northern humour to the show as she turns Tyrone and Fiz's lives upside down."
Also coming up in Coronation Street:
Jude plans a surprise vow renewal ceremony for him and Angie
It's the end of the road for Dev and Gina
Bethany discovers Billy has been visiting Josh
Toyah starts a Counsellor job at the medical centre
Get the latest updates, reviews and unmissable series to watch and more!
Thank you for signing up to Whattowatch. You will receive a verification email shortly.
There was a problem. Please refresh the page and try again.