Coronation Street newbie Louis Emerick on how he nearly bedded Liz McDonald once before!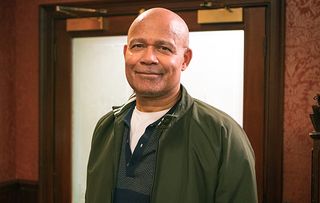 (Image credit: Andrew Boyce)
Coronation Street's latest star Louis Emerick has revealed that he nearly played another of Liz McDonald's lovers before playing ex-teacher Mike Thornberry.
Coronation Street actor – and former Brookside star – Louis Emerick has chatted to Soaplife about his new role as Liz McDonald's latest love interest Mike Thornberry.
What's the story?
When Mike Thornberry enters the Rovers, Liz McDonald notices him straightaway but doesn't immediately remember that he used to teach her Steve at Weatherfield Comp.
"Mike knows who Liz is, though, because he always fancied her," Louis revealed to Soaplife. "And he tells Liz he used to give Steve extra detention so she'd come to the school!"
Cheeky! Mike also asks if Liz knows of any cab firms looking for drivers… Of course, she does!
What's happening in Coronation Street? See the latest soap storylines.
Louis Emerick's interview with Soaplife about playing Liz McDonald's new love interest Mike Thornberry...
Soaplife: So Mike's looking for a job?
Louis Emerick: "Yes. He's divorced, retired from teaching and has just got his cab driver's license. He's got a place in Spain that he's doing up and the plan is to work part-time. It wasn't the plan to get a new girlfriend but there's a connection with Liz."
S: Steve's not so keen, though…
LE: "Initially, Steve doesn't want to take him on as a driver but when Mike's left the office, his business partner Tim Metcalfe says, 'Listen, you can have a bit of fun here. He was your teacher, he gave you detention. Now you can give him the OAP runs! But he's not going to be happy about his old teacher wooing his mum – Mike and Liz will have to keep it quiet."
S: Liz has a colourful history with men… Does Mike know what he's taking on?
LE: "She does like the bad guys, doesn't she?! But Mike wouldn't know about her past so he's just taking her as he sees her – and he likes what he sees! He might actually be the one! Who knows?"
S: Do you have chemistry with Bev Callard, who plays Liz?
LE: "Oh, yeah! We've known each other for 30 years! We actually did an episode of 'Mile High' back in 2003. I know Simon Gregson [Steve] as well and couldn't have wished for a better baptism."
S: You've been in Corrie before, though, haven't you?
LE: "Thirty-two years ago, I delivered the new furniture after the Rovers had been burned down for the first time. I had a wonderful scene with Bill Tarmey [Jack Duckworth] and Roy Barraclough [Alec Gilroy]. What great actors they were and I'll treasure that memory forever. It's taken me all this time to get back – although I have come close a couple of times. I was up for the roles of Liz's former love interest, Tony, and also for Freddie the mechanic."
S: Is it weird being in a soap again after Brookside?
LE: "I left Brookside in 2001 and for the next few years, wouldn't have gone near another soap. I left because I wanted to do other stuff. But now I am more than ready for it."
Coronation Street, featuring Louis Emerick, continues on ITV
Get the latest updates, reviews and unmissable series to watch and more!
Thank you for signing up to Whattowatch. You will receive a verification email shortly.
There was a problem. Please refresh the page and try again.