Coronation Street's Antony Cotton on landmark birthday: 'Nobody likes a fairy to be fat and 40'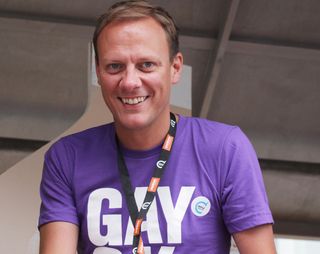 (Image credit: Demotix)
Coronation Street star Antony Cotton turned 40 on Wednesday (August 5) and has revealed how he feels about hitting that landmark age…
"I don't give a fuss about birthdays," Antony said with a laugh.
"But I'll tell you one thing – nobody likes a fairy when she's fat and 40."
It was a typical piece of jokey banter from Antony, who has won a legion of fans in 12 years as Corrie's camp knicker-stitcher and barman Sean Tully.
In an interview with the Mirror, the star made it clear he would still love to be in Corrie when he hits 50.
And he was very open about the man who has been his partner for the past 10 years and who he calls his protector – Peter Eccleston, a nephew of former Doctor Who Christopher Eccleston.
Peter was at Antony's side as he celebrated his 40th at their Lancashire farmhouse home near Rochdale.
Guests invited included Corrie castmates Catherine Tyldesley, Kym Marsh, Brooke Vincent and Alison King, along with former Weatherfield favourites Suranne Jones and Katherine Kelly.
Also there were Sir Ian McKellen and TV presenter Paul O'Grady.
Antony counts the acting great Sir Ian, 76, and Paul, 60, as two of his closest confidants. He says Paul taught him to "stand up for himself" in the cut-throat world of acting.
And Sir Ian told him not to react to negative comments.
"He gave me the best advice I've ever had. I was having a grumble about an internet comment, someone saying I always just play myself and I don't even do that very well. Ian said, 'Why are you bothering? What anybody else thinks of you is none of your business. Let it be.' Now I often have Ian's voice in my head."
Reflecting on his Corrie career, Antony said: "I've never missed a day's work in 12 years and I don't do drugs. But I'm still older than I ever intended to be. I never thought about being this age because it always seemed so far away.
"Every heartbeat is a bonus, if you can understand that.
"I never dreamt of being in Coronation Street for more than six months. But I'm in my 13th year and have no regrets.
"Call it fate, coincidence or just luck, getting my job on Coronation Street did come down to some of that. But I was also proactive. I sent the producer a card, saying if he was looking for a resident homosexual, then I was the man."
It was love at first sight for Antony when his partner Peter, 31, started working as an assistant props buyer for Corrie. They set up home together five years ago but Antony says they have no plans for marriage or children.
"Why change something when we are so happy?" he said.
Antony talked about how Peter helps him keep his wild side in check. He said: "You may not have seen me tumbling out of a club drunk but, trust me, I have. And I'm getting worse as I get older. I'll be the oldest swinger in town soon.
"We are an incredible team and Peter brings out my best side. He is always looking out for me and protecting me when we're out, while I look after him at home. I hang up pictures, make pickled beetroot and buy plants.
"I bet people never thought I'd be practical. Peter came home the other day and I was in my underwear and a pair of Ugg boots covered in soil and potting hydrangeas.
"Our house is our biggest extravagance in life. It's our private haven."
Despite dozens of TV credits – winning ITV's Soapstar Superstar in 2007, fronting his own chat show, appearing on Who Wants to Be a Millionaire? in 2008 and I'm A Celebrity… in 2011 – Coronation Street will always be his proudest achievement.
Antony added: "I'd be more than happy to be in it at 50."
Coronation Street, ITV.
Get the latest updates, reviews and unmissable series to watch and more!
Thank you for signing up to Whattowatch. You will receive a verification email shortly.
There was a problem. Please refresh the page and try again.