Coronation Street: 'Simon does something that really frightens Leanne,' reveals Jane Danson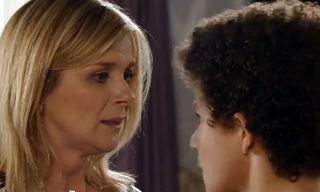 For a brief moment in Friday night's episode of Coronation Street, we saw the happy Simon Barlow (Alex Bain), who brought joy to stepmum Leanne Tilsley's life.
Then Leanne brought up the touchy subject of his aggressive behaviour and Simon went off on one again.
He didn't physically hurt Leanne this time…but Jane Danson, who plays Leanne, reveals in an interview that Simon will attack her again - and frighten her.
"It's been quite a year for Leanne," says Jane. "She's really been through it, with Kal and the fire and now, of course, Simon."
Yes, we need to talk about Simon, who has gone from that sweet child we all fell in love with, to a teen who is terrorising Leanne on an almost daily basis.
"Simon's been affected by everything that's happened to Leanne," Jane continues. "His behaviour has changed. Leanne was the one constant in Simon's life but recent events have shattered him."
Such as his alcoholic, lying, cheating father Peter (Chris Gascoyne) leaving him, Deirdre (Anne Kirkbride) dying and, most recently, finding out Leanne was a prostitute.
"But Leanne's love for Simon is unconditional," adds Jane. "Whatever he does she'll still love him and try to do her best for him."
Even Simon kicking her so hard her leg bleeds doesn't stop her trying to reach out to him and calm him down.
"It's really, really sad, though," Jane continues. "Leanne's completely on her own with this. In the past there's always been somebody she can talk to but she can't talk to anybody about this."
Jane reveals that in the coming week, she allows Simon to have a little party with his mates in Nick's bistro…and he trashes her treat.
"I think it's safe to safe Simon's mates behave badly," says Jane, "and encourage Simon to behave even worse. He follows Peter's path a bit, with some alcohol, which doesn't make his behaviour any better.
"There's a moment between Leanne and Simon where he makes a move that startles her and makes her feel frightened. That's unusual for Leanne because she's quite a tough cookie."
"I'm going to have to speak to someone about you," Leanne tells Simon.
"Good! I'd much rather be in care," Simon shouts at her, before giving her a hard shove.
"I have no idea where this story is going to end but there's lots more drama to come," promises Jane.
And a lot more heartache…
Coronation Street continues on ITV, Monday, August 10, 7.30pm.
Get the latest updates, reviews and unmissable series to watch and more!
Thank you for signing up to Whattowatch. You will receive a verification email shortly.
There was a problem. Please refresh the page and try again.