Eva Price and Catherine Tyldesley say goodbye to Coronation Street!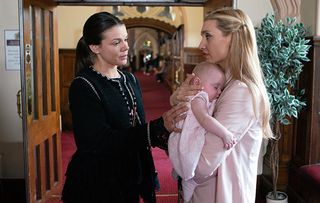 Eva Price returns to Weatherfield one last time with baby Susie for Aidan Connor's inquest! Coronation Street star Catherine Tyldesley reveals all…
After being 'outed' as baby Susie's mum, the custody battle with the Connor clan and the nightmare of having her baby kidnapped by Johnny Connor, it's no surprise Eva Price felt that she and little Susie needed to get the heck out of Weatherfield. And it's even less of a surprise that she now plans to begin a new life with her mum, Stella Price, and her gran, Gloria Todd. First, though, she has to return to Weatherfield to face the inquest into Aidan Connor's death.
What's the story?
"Eva's desperate to go and start a new life," actress Catherine Tyldesley tells Soaplife. "She hates Johnny for putting her through the kidnapping hell and she's aware it would be torture for both him and Toyah to see Susie every day when they both wish she was theirs. Eva also wants the security she'll get from being with her mum and her gran." But what about besotted Adam Barlow, and will the outcome of Aidan Connor's inquest influence Eva's decision to leave?
What's happening in Coronation Street? See the latest soap storylines
Catherine Tyldesley's leaving chat with Soaplife about Eva Price's exit from Coronation Street
Soaplife: How did Eva's sisters react when she first announced she was leaving?
Catherine Tyldesley: "She couldn't bring herself to tell Leanne and Toyah Battersby because it was too hard, so she wrote them a letter, explaining everything. They were devastated when they read it."
S: What's going on with Eva and Adam?
CT: "Adam loves her deeply. Eva cares about him, too - but he's not Aidan. However, Adam's very persuasive. Suddenly she starts thinking, 'You're really nice, you are. Let's make a go of it!' And that's how it's left. So, maybe Eva will get a kind of Happy Ever After with Adam… or maybe not!"
S: Does she make her peace with the Connor family?
CT: "Before Eva leaves for good, she goes to Aidan's inquest. It brings a feeling of peace and unity between her and the Connors. Eva tells them she wants Susie to know about Aidan and for the family to be part of the little one's life. That's really nice, I think. It's closure."
S: Are you happy with your exit storyline, Catherine?
CT: "Very happy. The writers have been wonderful and I'm really grateful for the stuff they've given me. It's a great exit storyline."
S: How does it feel to finally be leaving the show?
CT: "Surreal. I'm trying to get every last bit of it in because I love it here. The people are just wonderful so it's really emotional."
S: You're not leaving in a box so you could come back! Would you consider it?
CT: "Of course. This has been like a home for me. From being little, I always dreamed of being in Corrie. It's been a wonderful job and I'd love to see Eva come back at some point and wreak more havoc. That would be brilliant."
S: What's next for you?
CT: "I'm doing some travelling with the family. We've got a few countries that are definitely on the to-do list. The big one is Australia. I've got a lot of family over there who haven't met my little boy, Alfie, yet."
Coronation Street continues Monday, Wednesday and Friday at 7:30pm on ITV
Thank you for signing up to Whattowatch. You will receive a verification email shortly.
There was a problem. Please refresh the page and try again.