Coronation Street's Helen Worth: 'Gail and Michael kissing pushes Nick over the edge'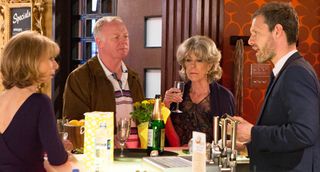 Coronation Street's Helen Worth warns Soaplife that Gail may have to chose between her family and new man Michael. . .
Considering Gail McIntyre's disastrous love life, it's amazing she's not off men for good. But, old romantic that she is, Gail's now falling for reformed burglar Michael. Her sons aren't fond of him, though. "Gail really wishes Nick could see she's enjoying helping Michael get his life back on track, but Nick. Gail expected a reaction from David, but not Nick," Helen tells Soaplife. And when a fight threatens to kick off between Nick and Michael, Gail realises there's no way her family will accept her new man. . .
What are Gail's feelings for Michael (Les Dennis)?
"They've grown very quickly and there's a real attraction between them. As soon as Gail got to know him, her opinion changed. He's very gentle, makes her happy and she likes helping him."
Her sons aren't happy, though…
"Gail's always been there for them and she finds their behaviour humiliating - like they don't trust her to make her own decisions."
Then Nick (Ben Price) and Michael square up to one another…
"Gail's been helping Michael clean up an old ice-cream van he's been given as a business opportunity. They've just finished when Nick appears and starts insulting Michael. Gail defends him so Nick has a go at her, too. Michael defends Gail and the two men end up challenging each other. Gail's at the end of her tether."
It doesn't end there, either, does it?
"No. Nick later spies Gail and Michael in the garden, enjoying a bottle of wine and kissing. It completely pushes him over the edge and as he leaves. He spots Michael's ice-cream van and vandalises it."
How does Gail react?
"She's devastated and humiliated. She confronts Nick and he admits it."
What if she's forced to choose between Michael and the family?
"She'll have to tell Michael that they can't be together, which will be very sad for her - and she'll be furious with the family."
Coronation Street, ITV. Click here for air dates.
Get the latest updates, reviews and unmissable series to watch and more!
Thank you for signing up to Whattowatch. You will receive a verification email shortly.
There was a problem. Please refresh the page and try again.