Corrie, EastEnders and Emmerdale summer stories revealed!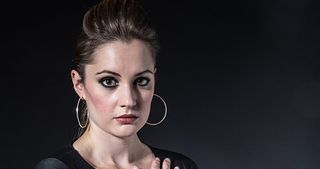 (Image credit: Joseph Scanlon)
TV Times reveals what's coming up this Summer in Corrie, EastEnders and Emmerdale…
CORONATION STREET
His first, his last, his everything?
Nick is at rock bottom after his disastrous wedding to Carla, but could Leanne get him smiling again? As she vies to win him back the Bistro from Robert, the ex-couple become closer, and Nick's old feelings for the single mum are reignited. Will it be happy ever after or will competition get in the way?
Kylie's dilemma
Sarah Platt is heading for her lowest ebb in a few weeks when she is kidnapped by Billy's brother, Lee. Sarah manages to escape Lee's clutches, but she's clearly not well, which leaves David and Kylie in a tricky situation. Will the pair put Sarah's health first? And if they do, where does that leave their killer secret?
At death's door
As well as being heartless most of the time, Tracy Barlow is also a kidney down, so it's literally a life or death situation when her sole kidney develops an infection and she is rushed to hospital. But what really hurts is when she comes round, and discovers that daughter Amy is refusing to visit her. Will her daughter's cold shoulder treatment convince toxic Tracy to change her wicked ways?
Also this Summer…
• Jason decides to leave the street for his own safety when his van is torched
• Callum's murder storyline reaches a dramatic climax and Kylie leaves the cobbles for good - will she be leaving the street in handcuffs or will she bow out a free woman?
• Michelle accepts a job on a cruise liner after her dalliance with Will causes waves at The Rovers – will Steve lay his heart on the line before it's too late?
• Izzy has her day in court – is she destined for a spell behind bars?
• Sally tries to outdo Yasmeen by installing a summer-house in the garden
• Luke becomes suspicious of Caz – can he and Sophie expose her true colours?
EASTENDERS
Farewell Peggy…hello Sam!
Following Peggy's emotional exit a few weeks ago, the grand dame of Walford will be laid to rest over the summer. While few details have been revealed, we can promise that it's at Peggy's farewell that Sam Mitchell (Danniella Westbrook) will make her much talked-about return. What does this dramatic return mean for the Square's residents?
A bleak summer for the Beales
The Mitchells aren't the only family facing a difficult time over the summer, as the Beales are still reeling from Bobby's shock confession while waiting to hear if their lad faces a stint in a young offender's institution. Meanwhile, Steven's return to the Square continues to send emotions spiralling as Ian struggles to forget the past and forgive the lad for his actions.
Also this Summer…
• Having made a brief return shortly before Peggy's death, Grant Mitchell will be back…
• Following their rocky reunion, Lauren and Abi eagerly await news from Max - but will he reach out to his daughters?
• The pressure builds for the Cokers as Babe continues to blackmail Les and Pam. Can anyone stop her?
• Kim tries to stop Vincent from becoming Donna's babyfather – but is it already too late?
• The spark between Bex and Shakil grows, much to Louise's fury. Can the Mitchell sit back and watch them become a couple?
EMMERDALE
Alarmed Belle
Doctor Bailey's cheating game could be up this summer, when a frustrated Belle lashes out and trashes her married lover's house. After Angie digs and a protective member of the Dingle clan gets revenge, the truth looks set to emerge and Bailey is forced to try and save his career. Can he look forward to a future stacking shelves or will he save his own skin?
A blow for Ashley
Ashley has been remarkably chipper lately, but his mood soon darkens when the reality of his dementia hits. Laurel and Ashley's friends have been working hard to hide the act that he has a team of 'minders', but Ashley realises he is being watched and doesn't react well. Can Ashley accept the help offered to him?
Holly helps herself
Holly Barton is well on the way down the path to self-destruction and things take a turn for the worse when she turns to drugs again and teams up with a murky character from her past. When Cain is too busy with his own problems, Holly tries to help herself and turns to desperate measures with bad consequences. Will Holly finally realise this is the wake-up call she needs?
Also this Summer...
• Bernice looks set to reignite an old flame after she learns that Lawrence and Ronnie were once lovers – will she cheat on her husband and will she file for divorce?
• Feeling protective over Rhona, Marlon decides to teach Pierce a lesson which could cost him his job after it all goes wrong.
• When the Barton brothers' mini cab business runs into trouble, Pete uses the sort of underhand tactics that Emma is famed for - will he realise he is a chip off the old block and give her a second chance?
• Rakesh raises funds for Kirin and worries that he is going to be busted.
• Nicola has grand designs on her home.
• There will be a fire somewhere in the village – will anyone get hurt?
Get the latest updates, reviews and unmissable series to watch and more!
Thank you for signing up to Whattowatch. You will receive a verification email shortly.
There was a problem. Please refresh the page and try again.