Corrie newcomer Jacqueline Leonard: 'I was gutted not to get the role of Stella Price'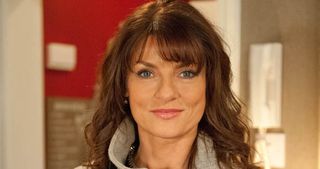 Jacqueline Leonard, born and raised in Blackpool, is a seasoned actress with roles in the likes of EastEnders, Peak Practice and Doctors. TV Times talks to her about how, after missing out on the role of Stella Price, she's delighted to have finally made it to Coronation Street, playing Owen's ex Linda...
How did you feel when you didn't get the role of Stella Price?
"I was gutted, because I've always wanted to be in Coronation Street. I'm from the north and it's every actor's dream."
Were there any hard feelings between you and Michelle Collins after you missed out on the part?
"You have to shrug it off and think 'It wasn't meant to be,' and, when Michelle got the part, I saw exactly why – she looked more like Leanne and Eva. And she did a great job."
Was it more nerve-racking auditioning a second time with Coronation Street for the part of Linda?
"I was more nervous than usual when I auditioned for Linda. But I was excited as well. Her and Owen's daughters, Katy and Izzy, are both dark, so I thought I had more chance of being cast as their mum than being cast as mum to two blonde girls."
Four years on and you've finally made it to Weatherfield. Are you happy?
"Over the moon."
Linda hasn't seen her girls Katy and Izzy since she walked out when they were tiny. Why has she decided to come back now?
"Katy was a baby when Izzy got poorly and Linda was working at the time and was busy being a mum, and she had a one-off affair with her boss that she regretted.
"She wanted to come back into the family, but Owen couldn't handle it. It hurt him very badly and he's held that with him all these years."
Surely it will be difficult for Linda to return to the girls after Owen lied telling them she'd left as she couldn't cope with Izzy's disability...?
"She has always wanted a relationship with her daughters and now she has come to the time in her life where she has the confidence to try and get that. Because Owen has told them lies, that causes big problems. They're expecting her to be the Wicked Witch – and she isn't at all."
Ian Puleston-Davies, who plays Owen is Coronation Street, does that mean it's just a short return for you?
"I don't want to dish the details and spoil the storyline, but it would be lovely if I came back."
If that doesn't happen, would you consider making a return trip to Walford, where you played Lorraine Wicks?
"If it didn't work out at Corrie, I'd love to go back. But I do think, 'Would Lorraine go back there?' Unless Joe or David Wicks went back, there'd be no reason for her to turn up out of the blue.
"It would be great to revisit the character in a different way, without all that angst. Mind you it is EastEnders, so I probably wouldn't have a choice! I remember one time, we did 26 scenes in one day and I think I cried in every one!"
Get the What to Watch Newsletter
The latest updates, reviews and unmissable series to watch and more!