Corrie's Dean Fagan: 'All my secrets are already out there!'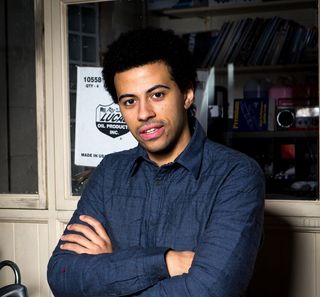 (Image credit: Joseph Scanlon)
Dean Fagan tells Soaplife how he's an open book, enjoying working as an actor in Coronation Street (opens in new tab) and as a director in the theatre.
Dean Fagan's not just a pretty face who can turn it on for the camera as Corrie's Luke Britton… He's also a bit of a wizard behind the scenes. Luke has just directed a play, The Collector, at the Salford Arts Theatre with the company, Perfectly Flawed (opens in new tab), which he and some old Salford Uni friends have set up.
So what's next? Getting behind the camera and directing an episode of Corrie? "I'd definitely give it a go," Dean (opens in new tab) tells Soaplife. "I'd need some tutelage from the other directors first, though. I've discovered I really enjoy directing. I loved the challenge and also quite like bossing people around!"
Was directing The Collector your first time in the boss's chair?
"Yeah. We all always wanted to work together, but we never got the chance before. We found the right play and finally, after seven years, made it happen. Directing was fantastic fun. It meant I had to think about everything at once. It was such a challenge and I learned a lot."
Do you prefer directing to acting?
"No. I love acting, but I've also found out I love directing. It's great to put your creative stamp on a project. I don't think I have to choose, do I? Ideally, I want to do a bit of both!"
How did you fit in directing the play with your Corrie schedule?
"We decided to rehearse in the evenings, as we all worked during the day. My girlfriend, Louise Pridding (opens in new tab), was acting in the play so it worked out very well. We met at uni and have been together for six years."
Is it true you almost became a bricklayer rather than an actor?
"It is! I just followed what my mates were doing, so I applied to be a bricklayer when I left school at 16. I went to register at my local college, but the guy I was meant to be seeing was at lunch and I was told to return an hour later.
"To kill time, I decided to see what else was going on and I spotted the Performing Arts course. The woman who was registering for that wasn't at lunch and when I'd heard more about it, I fancied giving it a go. I asked her what I needed to register and she said, 'Just your passport'. I handed it over, she scanned it and announced I was on the course! That was it!"
Wow! Sounds like fate…
"My life certainly would have turned out very differently if that brickie guy hadn't been at lunch! I soon discovered I'd done the right thing – even though, until that point, I hadn't done any acting since the school nativity when I was about six. I found out what my passions were – to create things and express myself."
What do you like doing when you're not working?
"I like writing – just putting ideas down on paper and trying stuff out. And I'm actually doing my house up at the moment – with my dad's help."
What would you like to see happening to Luke in the future?
"I'd like to see him suffer and squirm a bit. I like the comedy caper stuff, but also I'd like to show him in a different light. I'd like to see a darker, more secret side to him."
Do you have a secret side?
"Not me! I'm a truthful kind of guy. All my secrets are already out there. I don't hold anything back."
Coronation Street (opens in new tab), ITV.
Get the latest updates, reviews and unmissable series to watch and more!
Thank you for signing up to Whattowatch. You will receive a verification email shortly.
There was a problem. Please refresh the page and try again.