Corrie's Samia Longchambon brands Maria a fool as Eva takes revenge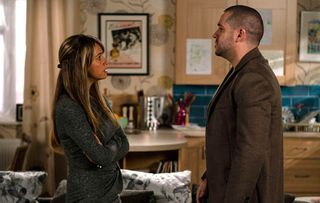 (Image credit: Mark Bruce)
Coronation Street actress Samia Longchambon has branded her character Maria Connor a "massive fool" for allowing herself to become the other woman.
Coronation Street actress Samia Longchambon has branded Maria Connor a "massive fool" as love rival Eva finds out about her affair with Aidan.
Next week's episode will see Eva discover that her boyfriend Aidan Connor has been having an affair with her pal, and it's safe to say that she's not going to take the news lightly.
Speaking to HuffPost UK, Samia said: "I feel like banging her head against a wall. When I read the scripts, it was so frustrating because I'm like, 'she should've learned by now'.
"She should've learned about 16 years ago when Tyrone cheated on her with Fiz! But yeah, she does think that Aidan is going to dump Eva, because he keeps telling her he's going to, but there's always a reason why he doesn't.
"To Maria, it seems like a valid reason at the time."
The plot thickens when Eva drops the bombshell that her and Aidan are expecting a baby, and Samia admits Maria finally wakes up.
"That's a complete game-changer, because I think she realises in that moment that he has been stringing her along. And also, when she finds out that Eva is pregnant, Aidan runs out to her outside and she says, 'This is it now, you need to sort your head out.
"'I've watched Liam grow up without a dad and I wouldn't wish that on any child so I'm done'.
"So that is where her head's at when she finds out, so that is a bit of closure of her in a way."
Samia even admitted she would love to see Maria hook up with best friend David Platt.
She said: "I think Maria and David should get it together. I keep saying that to Jack [P Shepherd].He's not opposed to it. Jack rarely gets excited about stuff. I'm halfway there, he'll be up for it.
"I love working with Jack as well. I think in some ways, they're quite similar in that they've both had their husband/wife murdered, they've both got kids, they've both worked in the salon all these years and grown up together and know each other inside out.
"But in a way I quite like playing that they are such good friends that you want them to get together and they won't so it's quite nice playing it like that."
Get the What to Watch Newsletter
The latest updates, reviews and unmissable series to watch and more!