Corrie's Craig: 'Lloyd's broke and bitter!'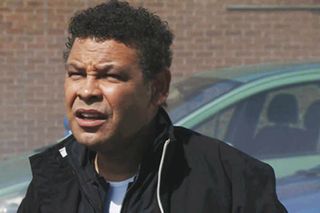 Coronation Street's Craig Charles talks to Soaplife about Lloyd's shock return to Weatherfield - and how it results in a taxi war with Steve! So Lloyd's back - and he's broke. What happened? "He invested in a land deal in Jamaica with a member of his family who was ripping him off. It all went belly up so he's come back to Manchester and he's working for a dodgy, broken-down cab firm called Prima Cabs." Then he runs into Steve... "Lloyd's engine blows up and as the smoke clears Steve is standing there. They start chatting and then Lloyd thinks that Steve has invited him back to Street Cars as a partner. When he realises Steve is only offering him a job, Lloyd decides to set up a rival cab firm." Is Lloyd living in the Street again? "He was going to live with Steve, but it's as he's moving in his stuff that Steve makes it clear he's only hiring him as a driver. Lloyd tells him that's not what he said and he storms off, warning they've got unfinished business. He ends up at Eileen's." Will Lloyd's rival cab firm be a threat to Streetcars? "Lloyd thinks so. He comes up with the idea to set up a cab firm solely operated by lady cab drivers, so that women punters will feel safer." And he hires Tracy! "She turns up saying that Steve is going to throw her and Amy out and that she hates Steve and that if Lloyd gives her a job, together they can grind him into the dirt. Lloyd, ever gullible, falls for it and gives her a job working the switch, but she double-crosses him." How? "She sabotages everything, sending cabs to the wrong addresses, phoning Steve and letting Streetcars nick punters and then, to cap it off, she pours sugar into the petrol tanks of three of Lloyd's cabs! The cabs are completely wrecked and it's going to cost thousands of pounds to repair them." So he goes after Steve? "Yes, at Amy's sports day! They end up having a right bundle! The headmaster breaks them up and tells them to wait outside his office like two naughty school kids. The absurdity hits home and they end up laughing. Then Steve turns around to Lloyd and says they should start again and Lloyd comes back as a partner after all."
Get the latest updates, reviews and unmissable series to watch and more!
Thank you for signing up to Whattowatch. You will receive a verification email shortly.
There was a problem. Please refresh the page and try again.