Corrie's Michelle: 'Tina's blinded by baby love!'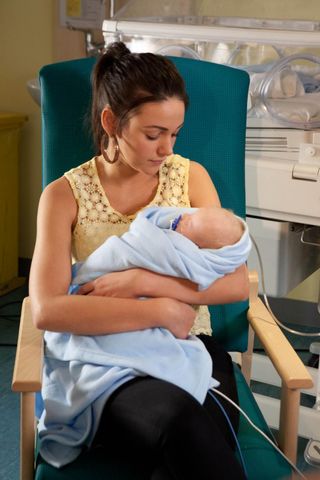 Michelle Keegan tells Soaplife how the battle for baby Joe is won in Coronation Street (opens in new tab)… by the person who loves enough to let him go!
Tina gave birth to this baby, but surely he belongs with his biological mum?
"Tina knows the baby isn't biologically hers, but she feels he needs her. She's expressed milk for him and now she's able to breastfeed him. This makes her bond with him even more. By law, the baby is hers, too, and Tina finds it hard to ignore that fact. Also, Tina agreed to the surrogacy because she thought Izzy and Gary's relationship was solid. Tina came from a broken home and she doesn't want that to happen to this baby."
But Gary and Izzy are back together now…
"This scares Tina because she's entirely set on keeping baby Joe. Everyone around Tina thinks she's in the wrong and is making a mistake, even Tommy. But he's standing by her because he doesn't want to lose her again."
How difficult would it be for Tina to give up baby Joe now?
"Insanely difficult. She's blinded by love for him. In her heart she feels she's doing the right thing for the baby."
Tina must be delighted when Izzy tells her she won't fight any more?
"No. She's thrown. She's hit by the realisation that she's doing wrong. Izzy decides to give up the fight and sacrifice her own happiness so the baby won't be pulled backwards and forwards. That's when Tina realises Izzy is a true mum…"
Get the latest updates, reviews and unmissable series to watch and more!
Thank you for signing up to Whattowatch. You will receive a verification email shortly.
There was a problem. Please refresh the page and try again.