Corrie's Oliver Farnworth pierces the mystery of Michael's son Gavin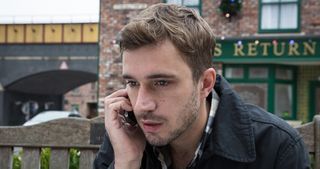 Coronation Street newcomer Oliver Farnworth plays Michael's mysterious son, Gavin, and reveals to Soaplife that he may not be all he seems…
Gavin Rodwell seems pleasant enough… and he's definitely easy on the eye. But there's something about him that makes us think he might be up to no good. "Gavin's a lonely soul and there's clearly a lot of resentment, anger, confusion and frustration about his past," Oliver (opens in new tab) reveals to Soaplife. Uh-oh!
So how did Gavin feel when he got the letter from Michael (Les Dennis (opens in new tab))?
"Michael left 20 years ago, when Gavin, who's been brought up by his mother, was only two. So it's not like he was old enough to form a proper bond with his father. He experiences a mixture of emotions, but he's undeniably curious about his dad."
What happens at that first meeting?
"There's a bit of ice between them initially, but Gail [Helen Worth (opens in new tab)] is there to spur the conversation on. They relax, have a beer and it's quite emotional for both father and son."
Is there a second meeting?
"Gavin and Michael go on a fishing trip and they bond. Michael tells Gavin how he met Gail when he tried to burgle her, which Gavin finds quite amusing. He's very interested to learn Gail sold the house to David [Jack P Shepherd (opens in new tab)] and must therefore have a bit of a nest egg, and his ears also prick up when he hears that Audrey [Sue Nicholls (opens in new tab)] has a successful business."
Uh-oh…
"We know from earlier on that Gavin's in financial difficulties: he has bills mounting, he's unemployed and there's a scene where he's eating beans out of a pan because he just doesn't have any cash. He could certainly do with some money."
So why does he then say he doesn't want to see Michael any more?
"That's fear. He feels he's in too deep too soon. He's getting involved with this family he doesn't know.
It's not to do with Michael's heart condition, then?
"No. He doesn't find out about that until his dad collapses. It's a complete shock to him."
And then Gavin changes his mind about seeing Michael…
"Yes. Michael gets him a job as a cocktail waiter at the bistro because Gavin's told his dad that's what he does. It's clear that's a lie, though, when he doesn't really know what he's doing behind the bar. He's good at blagging, is Gavin. He's good at flirting, too, as there's an instant spark with Steph [Tisha Merry (opens in new tab)]."
So does Gavin have a dodgy side?
"I think he feels hard done by because his dad left when he was so young. Gavin feels he's owed something and this affects the way he is and what he does."
Coronation Street (opens in new tab), ITV. Click here (opens in new tab) for dates and times.
Get the latest updates, reviews and unmissable series to watch and more!
Thank you for signing up to Whattowatch. You will receive a verification email shortly.
There was a problem. Please refresh the page and try again.