Corrie's Patti Clare: 'Mary is badly bruised, but the minute another man comes along she'll be off again!'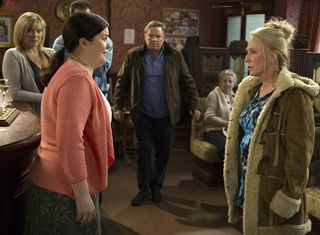 (Image credit: Joseph Scanlon)
Mary is painted as the scarlet woman when cheating Brendan's wife confront her in the Rovers, Coronation Street's Patti Clare tells Soaplife...
How does Mary feel when she comes face to face with Brendan's wife, Bridget, in the pub?
"At first, Mary thinks it will be an opportunity for everything to come out in the open. She's kind of excited by it because she's right in the middle of the drama. So she thinks, 'Let's put all our cards on the table, let's tell this poor woman about our great love affair'. But of course it doesn't go that way and the bubble is burst."
How?
"There's a slap! Bridget says Mary's not the first and goes even further with some really cruel comments. Mary's humiliated, mortified, and in front of her close friends, Dev [Jimmi Harkishin] and Erica [Claire King], too."
What advice would you give to Mary?
"I'd say to Mary that she's had an amazing experience, but she's worth a hell of a lot more and isn't a stupid woman. It's time to put the fantasies to bed and see the world for what it is. But I think whatever happens she'll always see life through slightly rose-tinted glasses."
Do you think she'll still believe in love after all of this?
"She's been badly bruised, but Mary's extremely resilient - perhaps to the point of being foolhardy. But I think she will bounce back. It might take her a while, but the minute another man comes along and shows her attention she'll be off again and there'll be nothing anyone can do about it!"
Coronation Street, ITV
Get the latest updates, reviews and unmissable series to watch and more!
Thank you for signing up to Whattowatch. You will receive a verification email shortly.
There was a problem. Please refresh the page and try again.