Corrie's Sair Khan: 'Alya made a terrible mistake, but she's punished herself enough!'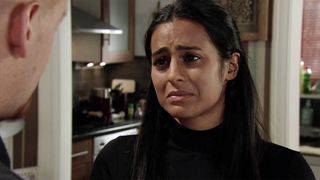 Alya's life spirals out of control after she confesses to Gary that she slept with another man, Coronation Street's Sair Khan (opens in new tab) tells Soaplife...
Why doesn't Alya tell Gary it was Jason she slept with?
"She knows the revelation alone is going to hurt Gary [Mikey North (opens in new tab)] enough so she doesn't tell him it was his friend because that would only cause more hurt and upset."
But Alya and Gary weren't properly together at the time…
"Yes, but she only broke up with Gary about 10 minutes before getting with Jason. She tries to explain she was grieving for her father, but Gary doesn't want to know. Alya can't cope so she legs it without telling Gary who it is."
Gary then accuses Aidan of being the other man, doesn't he?
"Gary sees Aidan [Shayne Ward (opens in new tab)] comforting Alya because she's in such a state. He immediately jumps to the wrong conclusion and goes to lamp Aidan. Jason [Ryan Thomas (opens in new tab)] intervenes and tells Gary, 'It wasn't him – it was me'. That's when Gary leaves for Germany, to spend time with his dad."
And Alya has to face her family…
"She had hoped she'd be able to keep that a secret. The family are really upset, shocked and disappointed, and there's a big fall out from it."
There sure is!
"There's a showdown between Zeedan [Qasim Akhtar (opens in new tab)] and Jason. When Zeedan finds out it was Jason who Alya slept with, he thinks Jason took advantage of her. Alya has to confess that she actually instigated things with Jason."
How does her family react to that?
"Alya really is at rock bottom, but ultimately I hope her family will be there for her because there's no one else to support her.
Do she and Gary still have a future?
"Hard to say. He can't bear the fact that she did the most sacred of things with someone else. I feel so sorry for Alya. She didn't set out to hurt anyone, she just didn't know how to cope with her grief, and, yeah, made a terrible mistake. But she's punished herself enough."
Coronation Street (opens in new tab), ITV.
Get the latest updates, reviews and unmissable series to watch and more!
Thank you for signing up to Whattowatch. You will receive a verification email shortly.
There was a problem. Please refresh the page and try again.