Corrie's Sean Ward: 'Sleeping with Sarah is a great way of winding David up!'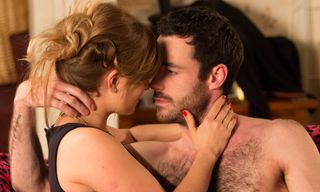 Coronation Street's Sean Ward tells Soaplife how Callum and Sarah get together - and how he delivers a huge shock to David about Max...
Callum Logan has made David's life a misery - and now he's found a way to get to the whole Platt family: Sarah.
"He really fancies her and they flirt from the get-go," Sean tells Soaplife. "But discovering Sarah is David's sister is the icing on the cake. It will be a great way of winding David up."
Yeah - that and announcing he's taking his fight for Max to court!
How do Callum and Sarah (Tina O'Brien) hook up?
"The Platts are in the Bistro when Callum arrives. He hears Sarah's having problems with her computer and offers his help. They go back to David's house and, well, you can imagine what happens next!"
The Platts don't know they're together, do they?
"No, but David [Jack P Shepherd] is suspicious. He has more to worry about, though, when Callum suddenly announces the mediation sessions about Max are over and that he'll see David in court."
Why?
"Callum thought mediation would be a quick in-and-out job and he'd get custody of Max because the boy's biologically his. When Callum realises the mediator may say Max is best off staying with David, he decides he'll have a better chance if they go to court where the birth certificate would be considered important. It's all about power."
Does Callum want full custody?
"He definitely cares about Max but I wouldn't say he was 100 per cent committed to being a father and having full custody. He probably hasn't actually thought about the reality of that. He just doesn't think David's the man to bring up his son."
Coronation Street, ITV
Get the What to Watch Newsletter
The latest updates, reviews and unmissable series to watch and more!