Corrie's William Roache 'tormented' by absence from soap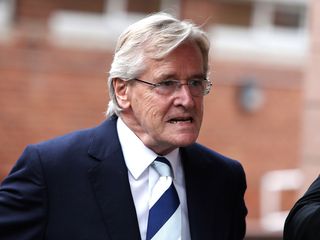 Coronation Street actor William Roache is reported to be 'tormented' over his suspension from the soap pending his sex assault trial in early 2014.
The 81-year-old - who is facing charges of historic sex offences against five girls - is said to have told friends he just wants to be 'back on the show'.
And others close to the actor have said he is becoming increasingly reclusive as the trial looms, turning down invitations to co-star Barbara Knox's 80th birthday party as well as a memorial dinner for show legend Bill Tarmey.
"He would have loved nothing more than to have gone back to celebrate Barbara's birthday and to join friends in raising a glass to Bill," a source told the Sunday Mirror.
"But he knows if he turns up at these events it will end up being all about him and it would turn into a pantomime."
"It is a really difficult time at the moment for Bill and he is finding the whole thing a strain. That's why for now he just thinks it is easier to keep a low profile and stay at home," the insider added.
"It isn't what he wants – in an ideal world he would be back on the show and doing what he does best. But Bill is determined to prove his innocence and for the moment he is focusing all his energy on that."
The actor was also reportedly upset by a decision to exclude him from the 2014 Coronation Street calendar - with suggestions Roache would be devastated at being erased from the soap's history, having appeared since the very first episode in 1960.
"Bill has dedicated most of his life to Coronation Street (opens in new tab)," the source explained. "His aim is to clear his name and then get back on the show where he feels happiest."
Thank you for signing up to Whattowatch. You will receive a verification email shortly.
There was a problem. Please refresh the page and try again.