Hayley Tamaddon: Craig Charles and I are leaving the Corrie cobbles together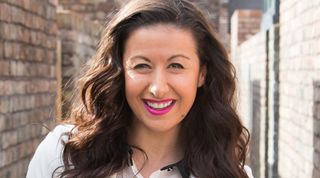 Hayley Tamaddon has said she will be both excited and sad to make her Coronation Street exit during the soap's live episode next month.
The actress, who plays Andrea Beckett, is leaving after two years on the long-running ITV soap.
Speaking on Good Morning Britain, she told presenters Susanna Reid and Ben Shephard that while she has filmed her penultimate Corrie scenes, she will be back for her final farewell in the live episode when it screens on September 23.
Hayley revealed that her character will leave the cobbles after deceiving her cabbie boyfriend Lloyd Mullaney, played by Craig Charles. Andrea will sell one of Lloyd's precious vinyl records behind his back to raise cash to help out her daughter.
Her deceit is unveiled when the record buyer calls her and Lloyd answers her phone.
Hayley said it would not be surprising to viewers that Andrea had gone behind Lloyd's back, because she has form, failing to tell him that she was already married when the couple started dating.
"She does lie a lot, doesn't she?" she admitted. "She keeps getting herself in trouble with him.
"It's quite sad because she really doesn't think he'll ever forgive her for this. So she decides to leave before he leaves her."
@hayleysoraya joins us live @GMB at 820 chatting #Corrie and cobbling together an explosive exit! #GMB pic.twitter.com/12ElnqJJt3
— Richard Arnold (@RichardAArnold) August 10, 2015
Talking about filming her final scenes, the actress, who has also appeared in Emmerdale as Delilah Dingle, said: "I kind of have [filmed them], but I leave during the live episode, which is really exciting."
She joked that she might change her mind about leaving during her live scenes.
"What I thought I might do is when I go to leave, when Lloyd says 'Come on babe let's go', I thought I might just go 'You know what I don't think I will'. I think I might just go back in the Rovers and have a drink.
"Can you imagine! I won't do – I promise!"
NEXT WEEK: Don't let Andrea go Lloyd! http://t.co/1PXpyPiuSP #Corrie pic.twitter.com/wxrBOKh1P9
— Coronation Street (@itvcorrie) August 9, 2015
Hayley hasn't done a live episode before, although she's used to performing in the theatre.
"I'm imagining it's just going to feel a little bit like an opening night except with a massive crew in front of you," she said.
She said there were concerns among the cast and crew after the recent EastEnders live episode, when Jo Joyner got the name of actor Adam Woodyatt mixed up with his character Ian Beale.
"It happens a few times on set. When that happens now, all of us go 'live episode, live episode!'."
Craig Charles is also heading out of Corrie (ITV)
Hayley didn't rule out a return to the soap, as her character isn't being killed off.
"Me and Craig are leaving together and hopefully one day they might bring us back together, because I'm so in love with Corrie."
Get the latest updates, reviews and unmissable series to watch and more!
Thank you for signing up to Whattowatch. You will receive a verification email shortly.
There was a problem. Please refresh the page and try again.