Jack P Shepherd reveals the toll Kylie's death took on him: 'It was weird. I felt the loss, but no one actually died'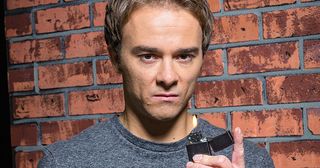 (Image credit: Joseph Scanlon)
Corrie star Jack P Shepherd reveals how he couldn't help but take his work home when Kylie died. Filming was the most emotional thing he'd ever experienced
Coronation Street's David Platt has been on auto-pilot since wife Kylie died in his arms on the cobbles.
It feels as if he is never going to get over the loss of his beloved soulmate but, fortunately, Jack P Shepherd who plays the grieving crimper is feeling a lot better.
During the two weeks when Jack and co-star Paula Lane filmed Kylie's heart wrenching demise, they both dug so deeply into their own emotions that they were left shattered by the experienced.
How did you feel filming your final scenes with Paula? "We really took it home with us. When we got home we were still thinking about it. We couldn't sleep or eat and both of us lost weight. Everyone kept saying that when I turned to the side, you could see through me because I had nowt to lose in the first place.
"Those scenes with Paula were the most dramatic and emotional thing I have ever done – not just in acting, but ever. When I got home after filming each day, I couldn't speak to anyone. It was weird, because I felt the loss, but nobody had actually died."
How was the experience for your fiancée Lauren Shippey? "Lauren was treading on eggshells; she just wanted to say, 'Get a grip', as she had never seen me like that before. When she actually watched the scenes weeks later, she realised why I was like that."
Jack is back to his cheeky self now, but David is struggling to cope with the loss of Kylie... "David has lost it. He is on a mission to kill Clayton now because his defence are going for manslaughter and he can't risk him being out in five years.
"David's done a recon of the court to see if he can get a weapon in, but that is not possible, so he has come up with another idea.
"When I first heard about the storyline, I wasn't over the moon with it as I am not a big fan of anything that involves stunts. I prefer the dialogue and drama of a conversation between two people, but it has been done exceptionally well and I think audiences will really enjoy it."
Will it reach the emotional heights of Kylie's death scene? "Nothing is going to top that. That was the peak and it is all downhill from now! I was really proud of what Paula and I did. We really wanted to touch people and that is what we did."
Have you been missing Paula much? "At the minute, I don't miss her because she is being spoken about and there is lots of drama going on. I think it will feel weird when we are doing everyday normal Platt scenes, like everyone sitting down for breakfast and having a laugh."
Have you managed to go and see Paula and meet her daughter Penny Grace? "We were going to see Paula and the new baby when my son Reuben accidentally tore the cornea from Lauren's eye. He was having his nappy changed, waved his arm and caught her eye. However, we have scheduled a weekend away in October with both our families, so that will be nice."
You have been in Corrie since 2000, do you have any plan to leave? "I have always said that I will stay here as long as I am getting the stories and I have had a really good couple of years. I like what I am doing. I would go out of my mind if I were just going into Roy's for a bacon barm, I couldn't do that. As long as I am getting these dramatic stories, I will stay."
Do you think David as changed much? "I think I have changed along with David. Ben Price who plays Nick was saying the other day that as actors get older, they become more real. They are not scared to show everything. You don't hold back any more. There is also the fact that you have more life experience.
"I am a father now and that really changes the emotional landscape. When I have to turn on the tears for a scene, I can go to really really dark places now. They are so dark, I can't even tell you about them."
Despite the fact that he has a hectic work schedule and a young family to care for, Jack manages to spare time to nurture young actors at his drama school 13 Performing Arts School in Swinton, which is attended by his co-star Harry McDermott who plays David's stepson Max.
Do you enjoy the work you are doing at your drama school? "Sometimes it is hard to create the energy on a Saturday morning, but it is like going to the gym. Once you are there you really get into it and come out thinking 'That were dead good that.' Ironically, my young actors were doing a performance of Oliver! the night that Kylie's death was aired on TV, so I didn't see it with everybody else as I had to be there to support them."
Did you consider doing a different job when you were younger? "I was at the hospital waiting to be seen. I saw this surgeon pull up in his bright red Ferrari. He got out, went in and half an hour later, he left and roared off. I thought he was so cool – he'd been in and probably saved someone's life. However, I would be a terrible brain surgeon, so it is probably best that I stuck to acting."
Interview by Sally Brockway
Get the latest updates, reviews and unmissable series to watch and more!
Thank you for signing up to Whattowatch. You will receive a verification email shortly.
There was a problem. Please refresh the page and try again.