'Johnny Connor's been conned by son Aidan,' reveals Coronation Street's Richard Hawley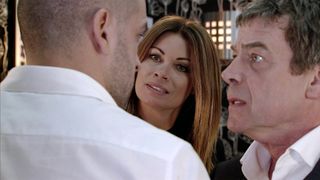 Aidan Connor's dad Johnny storms into Coronation Street on Monday wanting to know where his £100,000 is, Richard Hawley reveals to Soaplife.
Johnny Connor's a man on a mission. Son Aidan has nicked his last £100,000 and Johnny wants it back. "Johnny arrives in Weatherfield from his home in Spain and confronts Aidan over the missing fortune which, of course, Aidan has invested in Carla's factory," says Richard.
Johnny was retired, Aidan's actions mean he has to get back in the game...
How angry is Johnny when he first pitches up on the Street?
"He's outraged. That hundred grand was all Johnny had left, having been fleeced by an ex-girlfriend. Plus, he was planning on spending some of that money on a dream wedding for his daughter, Kate [Faye Brooks]. But then he realises that being involved in the factory is just what he needs. He has to start making money again plus it's a new challenge. He wants to roll his sleeves up and get stuck in."
Does this bring Aidan and Johnny closer?
"It does, actually. Family is very important to Johnny. Nobody crosses a Connor! He's hard on Aidan [Shayne Ward] sometimes but that's because he wants his boy to make a success of himself."
So Johnny thinks the factory's a good investment?
"Yes. He sees that the workforce is strong, the product is great, plus he's known Carla [Alison King] since she was a child and really likes her. When Johnny takes the factory on, he doesn't know about any of the problems."
Will he be the outright boss?
"He'll find it hard not to act like the person in charge. Carla's obviously had her troubles, but she's still a powerful business woman and there'll be clashes. Johnny will also clash with his son, although he will slowly begin to recognise Aidan's qualities and actually realise he has still has a few things to learn himself. It'll be father and son learning from each other."
Is there a lady in Johnny's life?
"His wife died over 20 years ago, when Aidan and Kate were very young. There have been women in his life since… I'd say women are his weak spot. Women of Weatherfield should watch out!"
Coronation Street, ITV
Get the What to Watch Newsletter
The latest updates, reviews and unmissable series to watch and more!