Julia Goulding: Shona and David? It'd be one of the most complicated relationships Corrie's seen!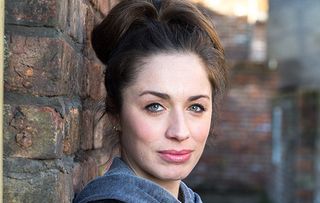 (Image credit: Mark Bruce)
Weatherfield newcomer Julia Goulding responds to the suggestion David Platt could be about to get into a relationship with the mother of Kylie's killer!
As Weatherfield newcomer Shona considers telling David her big secret – that she's the mother of Kylie's killer, Clayton – actress Julia Goulding responds to rumours of a relationship for the pair, and tells us why, after six months in Corrie she is still pinching herself.
How have you found the public reaction to Shona's secret – that she's Clayton's mum – finally coming out? "It's mainly been lovely, with people commending Kate Oates (the Corrie producer) and the writers, and saying 'Oh my God', she's his mum; I can't believe it!' I'm 32, but because I don't look my age, apparently, a lot of people have been saying that I don't look old enough to be his mum. But I'm 13 years older than Callum Harrison, who plays Clayton, and Shona was 13 when she had Clayton, so it's the same age gap in real life that it is on screen."
Is it a relief for you, personally, to not have to watch what you say? "Yes, absolutely! It was really enjoyable seeing people's theories online and on Twitter, but I'm finally able to talk to my friends about it. When I first started on the show, everybody wanted to know so much, but I couldn't actually tell them anything, because I couldn't be like 'Oh, I was so excited today, I filmed a scene with my son.' So it's a huge relief to finally be able to discuss work at this exciting time."
There is a prison brawl coming up in which Clayton is injured. How does Shona find out about this? "She overhears a conversation between Phelan and Faye – obviously no one on the Street is going to tell her because nobody knows she's Clayton's mum. She has no idea what state he's in; it could be a bruise or a scratch on his knee or he could be at death's door. Anyone that you love, if you hear they've been injured – especially in a prison – then I think your imagination would run wild."
David goes to the Rover's to celebrate when he discovers Clayton might not pull through – and Shona then finds him drunk on the cobbles. Can you tell us how she feels at this point, and what makes her consider revealing who she is? "When she first sees David on the Street, she doesn't know that's he's in the spot where Kylie died in his arms, so at first, she's confused as to why he is there and what he is rambling about. She is so torn, because he is opening up to her and she feels that it is an ever greater betrayal by allowing him to spill his guts – which David doesn't do very often – when she is hiding this huge thing."
Do you think she would like to get her secret out in the open? "Yes. Being on Coronation Street is the first time, I think, in her life that she has been part of a community. She has a job and she has built friendships. So I think she does just want a clean slate, which being on the street could've given her. But there's this added complication that it's the Street that David lives on, so it's thrown up a huge hurdle for her."
David's client recently suggested that he fancied Shona. How do you feel about the possibility of them getting together? "Well, Shona is never going to stop being Clayton's mum so I think if they ever got together, it would be possibly one of the most complicated relationships that the Street has ever seen! But then complicated is good for soap. That scene with David's client was lovely, because people have been guessing that there may be something going on with David and Shona, but it's the first time that someone on the Street has said: 'You've got feelings for each other.'"
Does Shona fancy David? "I think at the moment, she has no idea. David doesn't know about Clayton and that's the main thing on her mind, so that could be masking any underlying potential for romantic feelings. So if she does fancy him, I don't think she's aware of it."
Would you like Shona to have a boyfriend, if not necessarily David? "Yes, because she is all about self preservation and she's a very lone person, so we'd get to see that other side of her, and to see how she copes. All of her relationships so far have been so bad and so detrimental to her own growth, so it would be nice to see her with somebody decent who's going to let her let her guard down."
You've been in Corrie for six months now. How have you found it, being approached by fans? "Nobody has approached me at all! I don't think in real life that I look so much like Shona. I've noticed people clocking me, but I haven't been approached. Actually, I had one person in Ikea come up to me in the toilets and say 'Are you in Coronation Street?' I said 'Yes I am' and she asked me to sign an autograph for her nephew which was nice, and quite old-fashioned."
You're on Twitter – have you found that people's opinions of Shona have changed since she first appeared and stole David's wallet? "Yes, at first, they were very cross with her. But the nice thing about that introduction was that she stole the wallet in the first week and the next week, she gave it back. So that allowed a bit of redemption and also raised the question of 'Why did she give it back?' Now, people are saying 'I'm actually quite warming to Shona' which is really nice because I want to be around in Corrie for a while, if they'll have me."
You've said that, as a lifelong Corrie fan, it was a dream come true to land this part. Are you still very excited about being on set or are you now starting to take it in your stride a bit more? "Obviously at the beginning it was very much like that, but because everyone's so lovely and it is such a family, you soon feel like you're going with the flow. It's like when I was at drama school at RADA – which, again, was such a dream to get into. Every now and again, you're walking around and it'll hit you – 'Oh my God, I'm on Coronation Street!' It can be something as simple as standing in the queue at the canteen.
"It's a massive privilege, because not everyone gets to do the career that they want. I think it'll always be that way. Even if I'm there in 60 years' time, I think I'll still get that buzz!"
So would you like to stay in Corrie for the foreseeable future then? "As long as they'll have me, I'm happy to be here. At the moment it's just such a pleasure working with David Neilson (Roy). He's one of the most wonderful people I've ever met, and we have such a laugh on set. I still want a scene with Rita and Norris in the Kabin, though, because I haven't had one. I'll just keep dropping hints. Everyone wants to buy a bag of sweets off Rita, it's like a rite of passage!"
Get the latest updates, reviews and unmissable series to watch and more!
Thank you for signing up to Whattowatch. You will receive a verification email shortly.
There was a problem. Please refresh the page and try again.