Katie McGlynn embraces the empowering changes Sinead has made in Corrie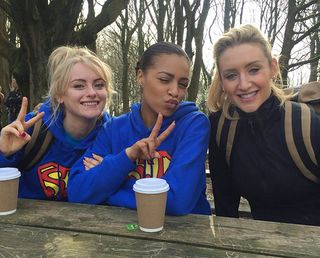 Coronation Street's Katie McGlynn (opens in new tab) tells Soaplife what she thinks of the Underworld undies and what she wants for Sinead's future…
Did you enjoy Sinead's modelling role?
"I like to keep fit, but I was a bit daunted when Sinead was involved in the Underworld modelling campaign and I knew I'd be in undies on screen. But it turned out to be great fun and also empowering, because it showed girls that we don't have to be stick-thin to model. As long as you're comfortable with the way you look, you shouldn't worry what others think.
"I did up my gym regime for those scenes, though. I started to do more weights in order to become more toned. But I wouldn't want to be in the gym 24/7. Life is for living and I wouldn't like to get hung up on things like that."
Would you wear 'Underworld' undies in real life?
"Er, no! A lot of it is a weird brown colour. It doesn't look very comfortable, either."
You're more glamorous than Sinead, aren't you?
"If I'm going on a big night out I am, yeah. But I like being comfortable, too. I have lots of different looks. At the moment, I'm into leather jackets and jeans. I like glamour but with an edgy twist – like Pixie Lott (opens in new tab). I'm really into her style. She'll wear a dress with an edgy leather jacket. I like that look."
If you could change one thing about Sinead, what would it be?
"She is getting more independent and not so reliant on Chesney [Sam Aston (opens in new tab)], but I'd like her to become even feistier. I wouldn't like them to split, though. I think Ches and Sinead make a good couple."
Katie, Tisha and Catherine in training for their fund-raising 50km trek
Along with her Corrie co-stars Catherine Tyldesley (opens in new tab) (Eva Price) and Tisha Merry (opens in new tab) (Steph Britton), Katie has just completed a 50km trek around the Brecon Beacons in Wales for 'Trek Fest', on behalf of The Joshua Wilson Brain Tumour Charity and Parkinsons UK.
If you want to contribute to Katie's effort, visit uk.virginmoneygiving.com/team/Vital (opens in new tab)
Coronation Street (opens in new tab), ITV
Thank you for signing up to Whattowatch. You will receive a verification email shortly.
There was a problem. Please refresh the page and try again.