Desperate Kevin needs Anna to suffer more to help him, reveals Corrie's Michael Le Vell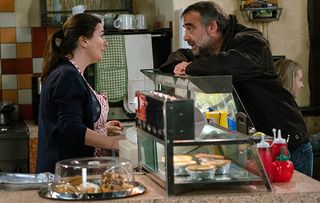 (Image credit: Mark Bruce)
Kevin Webster's business is crumbling and he can only think of one way to get some money… But it means Anna has to relive her nightmare, says star Michael Le Vell
Kevin Webster's garage business was doing well, then daughter Sophie got sick in America and Kevin had to pay her medical bills. He just about managed that, but then Pat Phelan set out to destroy him.
"Then there was the theft of Kevin's new truck which has cost him 15 grand and, of course, the garage burning down which the insurance company are refusing to pay for because they say it was arson," said Michael Le Vell, who plays the desperate mechanic.
And it was arson but Kevin didn't do it and doesn't know Phelan was behind it. In desperation, Kevin turns to his partner Anna for help...
How can Anna help solve Kevin's money worries? "He comes up with the idea to go after David [Jack P Shepherd] for compensation for Anna's injuries. Kevin overhears a conversation in the Rovers and thinks it's what Anna [Debbie Rush] is due. It's not so much he is going after David, he's going after what Anna should have been paid out for a very serious accident."
How does Anna feel about it? "Anna doesn't want to relive the horrors of it all and she shouldn't have to really, if it's just an insurance claim. But she doesn't want to relive it all in her own head… What she went through was very traumatic."
Has the accident put a massive strain on their relationship? "The accident and the financial mess they're in have both put a strain on the relationship. Anna's still in a fragile state of mind and is feeling vulnerable. I think they'll get through it, though."
Kevin and Tyrone's friendship is also suffering because of the garage problems, isn't it? "Yes. Kevin's had to dip into the business funds to pay Sophie's medical bill. Tyrone [Alan Halsall] and his family are already struggling, now everyone is feeling the knock-on effect from it all and Kevin's talking about laying off Freddie [Derek Griffiths] or Luke [Dean Fagan]. He thinks it should be Freddie as he was last in, but Tyrone thinks the mess is all Kevin's doing so he should get rid of Sophie."
The mess is really all Phelan's doing…Are you looking forward to Kevin finding that out? "Yeah – he has to find out at some point, it just depends what else Phelan [Connor McIntyre] has done in the meantime and what he gets away with. He knows Phelan's a nasty piece of work, but he doesn't think he's so devious as to steal the truck and torch the garage. Kevin doesn't know how bad Phelan is and just what's he's capable of!"
Coronation Street, ITV
Get the latest updates, reviews and unmissable series to watch and more!
Thank you for signing up to Whattowatch. You will receive a verification email shortly.
There was a problem. Please refresh the page and try again.