Kylie helps Bethany to beat the bullies in Corrie!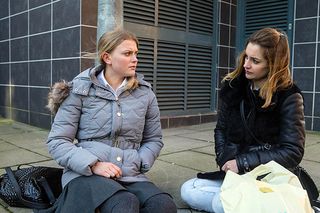 (Image credit: Joseph Scanlon)
Bethany Platt (Lucy Fallon) has been bunking off school in Coronation Street because she's being singled out by the classroom bullies.
The problem reached a head when mum Sarah (Tina O'Brien) found out about the absences at the school parent evening and Bethany flipped after she was confronted.
But while Sarah's growing more concerned about her daughter's troublesome behaviour, Bethany has been keeping the source of her problems to herself.
This week, however, she reveals all to Kylie (Paula Lane). Can she help the struggling teenager?
After Bethany fails to convince her mum she's ill and shouldn't go to school, Kylie finds her in tears and invites her back to No.8. Bethany opens up about the bullying, but will she take Kylie's advice?
After standing her ground against Megan and her gang on the street, Bethany is rescued by Luke Britton (Dean Fagan), who takes her to the salon, where Sarah and Grandma Audrey (Sue Nicholls) listen in horror as she reveals her bullying secret.
Sarah decides she has to sort out Megan for Bethany's sake. What has she got in mind?
Will Bethany be pleased she revealed the truth to her mum? And will her bullying nightmare come to an end?
Watch Coronation Street on ITV from Monday, 7 March.
Thank you for signing up to Whattowatch. You will receive a verification email shortly.
There was a problem. Please refresh the page and try again.