Luke is living dangerously by questioning Phelan over Andy, reveals Corrie's Dean Fagan!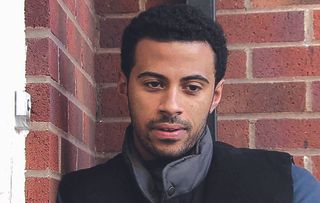 Luke Britton starts asking Pat Phelan awkward questions when post starts stacking up for Andy Carver, Corrie's Dean Fagan tells Soaplife
Luke Britton believes that his former flatmate and his sister's ex, Andy Carver, moved to Bristol. But maybe not for long, as Dean Fagan explains
What's the story?
Andy Carver is still getting mail at his old address. Wanting to pass on the post, Luke Britton contacts the friend he believes Andy's staying with but, as we viewers know, Andy was never in Bristol. "Luke thinks, "That's a bit odd" when he finds out, but doesn't dwell on it too much initially. Andy's never been the most truthful person so Luke thinks Andy lied about moving to Bristol to keep himself hidden and out of the way," Dean Fagan told Soaplife.
What's happening in Corrie? See the latest soap storyline
Dean Fagan reveals all to Soaplife
Soaplife: But then Luke starts asking Phelan questions, doesn't he?
Dean Fagan: "Luke knows that Phelan was one of the last people to see Andy before he 'left'. Phelan tells Luke to let it go, not to bother or think too much about Andy because of the way he dumped Steph. He confirms what Luke is thinking - that Andy wants to keep in hiding. Luke has no reason not to trust Phelan at this point."
S: Phelan does point Luke to an address in Birmingham, though…
DF: "And it's a wild goose chase. Andy obviously isn't there and Luke's very annoyed when he returns. He's then told by Andy's mate, Matt, that Andy has gone travelling but Luke's not convinced. None of it really adds up."
S: But asking more questions could get him in bother with Phelan!
DF: "Luke doesn't know that. He's gets very curious, sensing something is a little off and he's pulling the wool and unravelling the sweater."
S: Did you always know that he was going to be hot on Phelan's trail?
DF: "I knew they would cross paths eventually - especially as all the drama with Andy and the laptop happened in the builder's yard flat, where Luke lives. This gives off a massive whiff as Phelan is the landlord! Questions were bound to be asked and the answers don't add up so Phelan inevitably becomes a strong lead."
S: What were your first thoughts when you found out about this storyline?
DF: "I was thrilled! Everything always gets turned up a notch when you're involved with Pat Phelan!"
S: What advice would you give Luke if he was your friend?
DF: "Remember the saying. . . 'Curiosity killed the cat'!"
Coronation Street, ITV
Get the latest updates, reviews and unmissable series to watch and more!
Thank you for signing up to Whattowatch. You will receive a verification email shortly.
There was a problem. Please refresh the page and try again.