'Maria's flat is covered in blood. Caz has set her up!' reveals Corrie's Samia Ghadie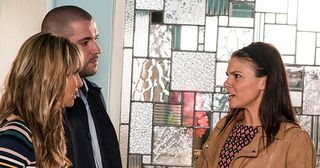 (Image credit: Mark Bruce)
Maria returns from her trip to London and makes a horrifying discovery in her flat, Corrie star Samia Ghadie reveals to Soaplife
It's a horrifying Halloween homecoming for Maria in Corrie, as Samia Ghadie reveals to Soaplife...
Maria's flat is a bloody mess, isn't it? "It's in a state and there's blood on the walls! At first, she thinks her brother Kirk [Andy Whyment] has pulled a Halloween prank, but then she realises Caz [Rhea Bailey] must have something to do with it. But she has disappeared."
So why doesn't Maria report her to the police? "Caz knows that she married Pablo illegally so he could get a visa. If Caz tells the police, Maria could go to prison."
But the police come to investigate Caz's disappearance… "And Maria tells them that Caz has gone AWOL on purpose. She knows that Caz is a little crazy, but at this point I don't think she realises just how unhinged she is. She is mortified when the police imply she is involved in Caz's disappearance because she knows she has done nothing wrong. She's also frustrated and angry."
Then the stuff about her stalking Tyrone in the past comes out, doesn't it? "Yes and Maria is mortified again because she knows it makes her look bad. She tries to explain that she was in a bad place back then and isn't the same person any more. But she soon realises the police aren't buying it and she feels like they are gunning for her."
Do Maria's neighbours believe she's innocent? "Kate [Faye Brookes], Caz's ex, is adamant that she is guilty and says as much to the police, which is really unhelpful. Fiz [Jenny McAlpine] and Tyrone [Alan Halsall] have told the police things, too, so all this convinces them that she has something to do with it. We will see that Caz has left no stone unturned in setting her up."
How will Maria get out of this one? "I really don't know and can't believe how bad this is for her! It's just awful. The one person who is actually there for Maria is Aidan [Shayne Ward]. He is trying to help her get a grip, but she is losing it rapidly as it really is getting out of control."
Coronation Street, ITV
Get the latest updates, reviews and unmissable series to watch and more!
Thank you for signing up to Whattowatch. You will receive a verification email shortly.
There was a problem. Please refresh the page and try again.