'Mel is petrified of Nathan, but also jealous of Bethany,' says Corrie's Sonia Ibrahim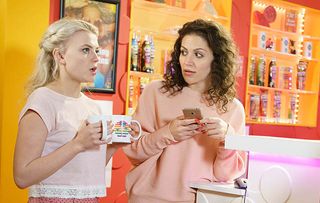 (Image credit: Mark Bruce)
Mel is persuaded to sweet-talk Bethany with talk of a wedding so that Nathan can continue with his sickening scheme, reveals actress Sonia Ibrahim
Bethany Platt did what Nathan wanted and had sex with his 'friend' Neil… but then she ran home to her mum in Corrie. That wasn't part of Nathan's perverted plan and he's furious!
"And he blames Mel for letting Bethany to go back to the Platts," Sonia Ibrahim told Soaplife. "He feels Mel should be doing all the manipulation for him so he doesn't seem as controlling – and he knows he can make Mel do what he wants."
Even to the extent of priming Bethany for a proposal…
Nathan wants to marry Bethany? "It's to make Bethany believe that Nathan [Chris Harper] really does love her and make her feel bad for wanting to go back home. It's Nathan controlling Bethany again."
Mel, too? "Yes. Mel is just as manipulated as Bethany [Lucy Fallon]. She has been abused by Nathan, she knows exactly what he is capable of, how scary he is and she is doing all this because she's scared of what will happen if she doesn't. She fears she'll end up back on the streets, where she was when she met Nathan."
What's Bethany's reaction when Mel tells her about Nathan's plan to propose? "Bethany is so happy. But Mel is worried for Bethany – she knows what's coming, she knows it's not real and she knows how horrible the reality is. Mel doesn't want Bethany to be really happy about this because she knows it will break the young girl's heart."
How does Mel feel about Nathan giving Bethany so much attention? "Even though he is doing all this with Bethany, Mel hopes Nathan is still going to come back to her. Mel is petrified of him, but she is also slightly jealous of Bethany."
Why? "Because in a weird way Mel loves Nathan, too. To begin with, Nathan just seemed like the most perfect man who loved her, doted on her, bought her things, made her feel special and that's all she ever wanted because she never had that. Then all Nathan's true colours came out."
Can you tell us a bit about Mel's background? "She is a girl from a troubled, broken family. All her mum cared about was drugs and men. Mel took the decision to leave and that's when she became homeless and ended up on the streets."
Will we start seeing a more vulnerable side to Mel? "You'll see more of an emotional and human side as we see what is happening to Bethany. Mel knows it's wrong, but she's torn. Nathan tells her if Bethany's not there, she will be taking her place. And there's no way she wants to go back to that!"
Coronation Street, ITV
Get the What to Watch Newsletter
The latest updates, reviews and unmissable series to watch and more!