Melanie Hill: 'Cathy's carrying a big secret that she doesn't want Roy to find out in Corrie'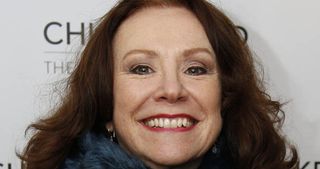 (Image credit: PA Wire/Press Association Images)
Melanie Hill makes her debut in Coronation Street this week as Cathy Matthews, a widow who owns the next allotment to Roy and Sharif, and bonds with Roy over their shared experiences of losing their partners.
Here, Melanie tells TV Times about Cathy, the cobbles and why, at 53, she feels the luckiest woman alive…
What can you tell us about,Cathy?
"She's just consumed with the loss of her husband, who passed away a year ago from cancer. He took care of everything – looking after the bills and obviously the allotment. She's never had to take care of anything, and now that she's on her own, she's struggling, massively.
"She talks for England, but she's very nervous. And there's more to her than meets the eye. In future episodes, we'll see that she's carrying a big secret that she doesn't want Roy to find out about."
How does their first encounter go?
"She's a bit annoyed when she first meets him and Sharif, as they're throwing rubbish into her allotment. But then they get talking about their partners passing away. She's damaged and he's obviously very damaged and I think they're going to really help each other down the line."
Was it daunting to work with a much-loved character who's previously been part of a classic Corrie couple?
"Very! But I'd never in any way try to replace Hayley or come anywhere near that; I'm just coming in as Roy's friend."
Do you think viewers will warm to Cathy?
"They might have a problem, because of Hayley being such a massive character. I think the people on the street are going to have a problem with Cathy because she's an outsider. They want to protect Roy and don't know what her interests are in him."
Have you auditioned for Coronation Street before?
"No, I haven't. I'm happy to be in something long-running [Melanie has signed a 12-month contract] and long may it last. I did Waterloo Road for three and a half years and I like working like that.
"Very often in this business, you're working with people for three months and then you move on and have to make new friends and it is quite daunting as you get older. I liked being with the Waterloo Road folks and being with the same people every day. A lot of actors don't like that ,but at my time of life, that appeals to me."
How did you celebrate when you got the part?
"I was at my dad's house and we had a curry and a bottle of wine. I was ecstatic!"
How did you feel when you saw the cobbles for the first time?
"I was quite emotional. I felt like I was in the right place; like this is where I'm meant to be. I was terrified when I went into Roy's Roll though, for my screen test. In the scene, I had to open an umbrella and on the first take, it, it broke and got stuck. I tried to improvise and failed miserably. I was convinced I'd blown it."
You first became famous for playing Aveline in Bread. Do people still remember you for that?
"Up north they do, believe it or not, because it was 24 years ago, and I still get recognised for it. But it's nice, and it was a lovely show. I think a lot of families watched it – it was one of those real old-fashioned comedy dramas."
What'a the strangest place you've been recognised?
"I'll tell you a funny story. When I was doing Bread, there were two old people that were following me around the Albert Dock in Liverpool. I thought, 'They've recognised me', so I said 'Would you like an autograph?' They said, 'Thank you very much, Gilly Coleman, we hate that new Aveline' – which was me. Gilly was the original Aveline, and I took over the role when she left. They said 'We can't stand her, we wish you'd come back to Bread.' I didn't want to embarrass them so I signed my name Gilly Coleman. That brought me so down to earth."
Waterloo Road and The Bill are gone – do you think there are now fewer opportunites for actors in continuing dramas?
"I was gutted when The Bill went, because it had just won loads of awards and then they canned it – I still don't know why they did that. I think there's less opportunity for people my age to work because the average age in all these shows is quite young. That's why Corrie is good, because it has the older characters. They're the interesting ones, to me."
You trained at RADA, do classically-trained performers look down their noses at soap actors?
"If people do look down their noses, they're being very ignorant, because these actors are the best at what they do. I take my hat off to soap actors because you've got to work like nothing else. The pace of the show, the way you've got to learn lines, you've got to be on it all the time. I don't think RADA would look down their nose because anybody who's working is doing well - 97 per cent of people in the acting profession are unemployed."
You've spoken in the past about hitting 40. how do you feel about being in your fifties?
"Well, I'm over the moon because I can't believe how lucky I am. I'm 53 and I'm in what is, in my opinion, the oldest, bestest show in England."
Is this your proudest moment as an actor?
"Yes, it is really. And to be working at my age and having worked since my early twenties, I think that's good going. I've had periods when I've been out of work, but I'm very lucky – and very happy."
How do you unwind away from work?
"I like to watch football, even though I support Sunderland, who are about to get relegated. And I like to eat curry, have a drink, and spend time with my kids. And I love walking. I had my hip replaced a year ago and I can walk now, so I walk everywhere because I can. It's great!"
Get the What to Watch Newsletter
The latest updates, reviews and unmissable series to watch and more!