Michelle Keegan: 'I was so nervous about birth scene'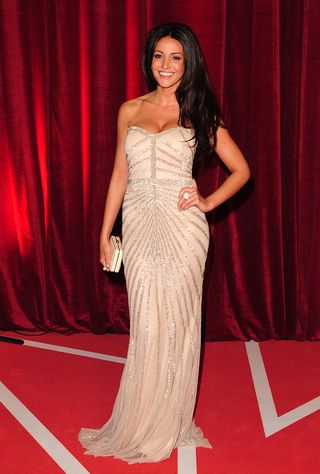 (Image credit: PA Wire/Press Association Images)
As Coronation Street's Tina McIntyre gives birth, actress Michelle Keegan (opens in new tab) explains to TV Times magazine (opens in new tab) how she prepared for the big day…
It's obviously a big shock for Tina when she goes into labour so early. How does Tina feel as she's rushed to hospital? And is she glad to have Tommy by her side?
"Yes she is; when she gets into the ambulance she asks for Tommy and from that point, Tommy's always there. He's in the birthing room, supporting her as well."
Tell us about the birth...
"It's a natural birth with gas and air. It's relatively quick, but then I think she has been in labour most of the day without realising it. Tommy's in the room with her and she invites Izzy in at the last minute because she knows what it means to her to be there."
How did you find filming the birth scenes?
"I was a bit nervous about it; I didn't know what to expect – obviously I've never given birth before! But I did watch a lot of One Born Every Minute and tried to pick a few things up. Every birth is different and, until you've been through it yourself, I don't think you can ever really know what it's like, so I went with heavy breathing and a bit of shouting. I thought I was going to be embarrassed doing it but, when I was in the situation, I just got on with it. I think the crew wanted to get on with it, too, as it was nearly time for tea break!"
Did you get any advice from real-life mums?
"I had some advice from family and friends about the birth – what it feels like, how long you're in labour, what noises to make, how to stand etc. But, to be honest, not one person said the same thing; every birth is different. So I tried to take a few things from everyone and put them together."
What are the main concerns for the baby when it's born?
"First of all, it's definitely his health, Tina doesn't understand why he's taken away, and Izzy's very upset about that as well. Obviously, he's so premature and Tina doesn't want any harm to come to the baby. She's carried him for seven months and they've all been through so much. She doesn't want it all to be for nothing."
Is Tina aware of her feelings of attachment for the baby?
"No, I don't think she's aware of it. At the beginning, it's instinct that's taking over; she was a part of his growth and gave birth to him, and she cares for him. But, as the days go on, she does become more attached to him because she's spending a lot of time alone with him in the hospital, which she never expected to do. Also, he is sick and she has to express milk for him which is, again, something she didn't expect to do. It's not just a case of handing him over straightaway."
If Izzy and Gary don't stop rowing, would Tina refuse to hand over the baby?
"Yes, I don't think she'd want the baby to go to an unhappy home and I think if they can't offer him a happy home, then maybe she'd reconsider."
How does Tina react when Tommy tells her he loves her and will be there for her?
"I think it's something she wanted to hear because she's missed Tommy for a long time, but she wasn't sure how he felt. Going through all this alone has made Tina realise how much she does need Tommy in her life and she tells him she feels the same."
Could Tina cope with the rows that would come if she decided to keep the baby and bring him up with Tommy?
"Tina's been through a lot of tough times in her life and come out stronger. Once she makes a decision, she'll stand by, it whatever the consequences and I think she can put up with a few rows if she thinks she's doing the right thing. If Tina feels it's the right decision to make, then she'll stand by it and fight for the baby."
Would you like to see Tommy and Tina make a go of it and have a baby of their own?
"I'd like to see them back together, but maybe not have a baby of their own just yet. I think Tommy and Tina have got issues to sort out. From the very beginning, there was a lot of drama centred around their relationship and I think now it's time to rebuild their relationship and just have fun as a young couple."
Get the What to Watch Newsletter
The latest updates, reviews and unmissable series to watch and more!