Michelle's son Alex is back! Coronation Street's hot new actor James Burrows reveals more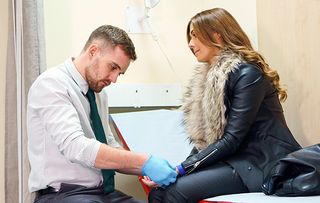 (Image credit: Mark Bruce)
Coronation Street newcomer James Burrows has revealed that when Michelle's son Alex 'Ali' Neeson returns to Weatherfield he may be hiding something...
Forgotten all about Michelle's biological son Alex 'Ali' Neeson? So had we! But you can bet Michelle hasn't… Now he's back in the Street - and in her life - but does he have an ulterior motive? The latest actor to play Ali, James Burrows, has talked to Soaplife about his new role and life before Corrie.
What's the story?
Michelle Connor's in shock this week when she comes face-to-face with Alex Neeson, the son she gave birth to but who was accidentally swapped with Ryan shortly after their births. The last time we saw Ali (as he's now known) over 10 years ago (and then played by Dario Coates), he felt it was too late for mother and son to build a relationship. So, why is he back in Weatherfield?
"He's a trainee doctor and on placement at the medical practice but, from the outset, he says it's not his choice to be working in Coronation Street. Michelle may be his birth mother but he's very standoffish with her," actor James Burrows has told Soaplife.
So, is there more to Ali than meets the eye?
What's happening in Coronation Street? See the latest soap storylines.
James Burrows' interview with Soaplife about the return of Michelle's son Alex...
Soaplife: Is Ali being so off with Michelle out of loyalty to Wendy, the mum who brought him up?
James Burrows: "No. He gives the impression that Wendy's found it increasingly difficult connecting with him since the baby-swap was discovered but maybe he's telling a few porkies."
S: So Ali may not be all that he seems?
JB: "He's a bit of a mystery. I'm still working him out myself. I've never played a doctor before so it's been really interesting getting my head around that. I normally play a bad boy - the murderer or drug dealer. I'm looking forward to finding out more about him and seeing his character unfurl."
S: How is being in Coronation Street different to your previous roles?
JB: "With a soap, you don't always know where your character is going. It's not like a drama where you have a beginning, a middle and an end. It's very different to working on a film set or the TV dramas I've done in the past. It's very fast paced so when you come in you've really got to be on it."
S: What other jobs have you worked on recently before Corrie?
JB: "Last year I was doing a drama called Love, Lies & Records, written by Kay Mellor. I also played a character in Stephen Merchant's new film Fighting with My Family. I've never done a soap before - so it's all very new to me but very exciting.
S: Have Corrie given you a warm welcome?
JB: "Everyone has been lovely and it's a really great environment to work in."
Coronation Street, ITV
Get the latest updates, reviews and unmissable series to watch and more!
Thank you for signing up to Whattowatch. You will receive a verification email shortly.
There was a problem. Please refresh the page and try again.