Roy Barraclough: 'I'm joining Last Tango!'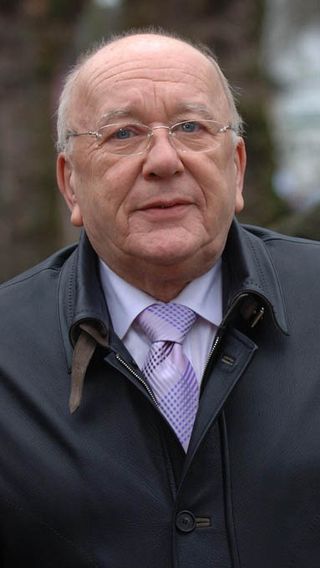 (Image credit: PA Archive/Press Association Ima)
Former Coronation Street star Roy Barraclough turns up in BBC1 drama Last Tango In Halifax this week. The veteran actor tells What's On TV all about his new role and reminisces about his Corrie days as Rovers landlord Alex Gilroy... What is it you love about Last Tango in Halifax? "The romance between Anne and Derek's characters is so sweet and it's very unusual for dramas these days to show a love story between pensioners. It's like a dream for them to fall in love all over again so many years later... Sally Wainwright is a lovely writer. I remember some episodes of Coronation Street she'd done years ago when I was on the Street. Alan and Celia have some great one-liners and humour, but there are some quite dark moments too - cars getting blown up, people getting beaten up, affairs and such-like. It all adds up to make a wonderful show." Your character Maurice comes in when Alan and Celia get locked in South Haram Hall, a stately home they're checking out as a wedding venue...? "Yep, Maurice and his pal Harry are friends of Alan, and they're called upon by Gillian when she thinks her father is missing. She's very worried because Alan's not come back home after a day out with Celia, and she knows he hasn't got the pills he needs for his heart condition. Basically Gillian ropes in Harry and Maurice to help in the search for Alan and Celia." How would you describe Harry and Maurice? "Well they're a pair of old muckers who were both at school with Alan - they are sort of fun 'partners in crime'. Once a week they take Alan out and go for a boozy lunch, sit in the pub and chew the fat. It's much to Gillian's dismay of course, because she worries over her dad's health, and they've returned him home several times where he's been a little worse for wear. It's all very much like Last Of the Summer. I suppose Maurice is more the Cleggy of the group, in that he's a little pompous having been on the town council, while Harry's the Compo, the rough diamond." How was filming with the other cast? "It's just a brilliant cast. Derek Jacobi, Anne Reid, my former Coronation Street co-star Sarah Lancashire and Nicola Walker who was wonderful in Spooks. They're all such wonderful people, and really nice to work with. I'd more or less retired and it really tempted me back to work with such lovely people. I'd worked with Derek when I did an episode of Cadfael years ago - it was filmed in Budapest. He's a lovely gentle gentleman, and so nice. He's dying to get a big part in Corrie, he's desperate for that to happen." Coronation Street fans are going to love to seeing you again on screen - and, of course, Sarah Lancashire, who you worked with so much when she played barmaid Raquel when Alec Gilroy owned the Rovers... "I worked such a lot with Sarah back in our Corrie days. We did ever such a lot of reminiscing. We were always harking back to the Corrie days, they were some great times." Do you miss being in Coronation Street? "Well yes, it's been 14 years. I don't watch it, though. I rather got out of the habit, and the occasional times I dip in I hardly know anybody, apart from the old brigade - Barbara Knox, Eileen Derbyshire and William Roache who just never seems to age." Alec and Bet Gilroy were a fantastic couple in Corrie. Do you still keep in touch with Julie Goodyear? 'Yes we speak on the phone quite often. We were a double act/husband and wife for many years, so developed a great friendship. We had some wonderful scripts. When we were in Corrie together it was mainly comedy then. I did see Julie in quite a lot of Big Brother last summer. I couldn't believe it, I thought she was playing Catherine Tate! She's fabulous and very funny!" Last Tango In Halifax is on Tuesdays BBC1 at 9pm.
Get the latest updates, reviews and unmissable series to watch and more!
Thank you for signing up to Whattowatch. You will receive a verification email shortly.
There was a problem. Please refresh the page and try again.