7 soap characters who have been wrongly imprisoned... as Sally Metcalfe is thrown behind bars in Coronation Street!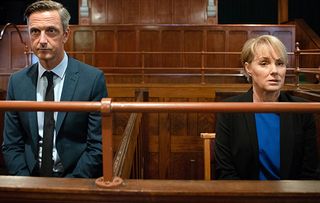 Free The Weatherfield One! As Sally's off to the slammer, here's more innocent soap characters who've had to do a stretch
With Sally Metcalfe heading behind bars after her disastrous court appearance in Coronation Street, we take a look at other soap characters who have faced a stretch at Her majesty's pleasure despite being (sometimes, surprisingly!) innocent…
1. Anna Windass
Poor Anna found herself behind bars after being framed for Seb Frankin's fall from a ladder by evil nemesis Pat Phelan. She was infamously sent down for attempted murder after Phelan planted her earring at the scene of the crime, and later lied in court to make sure she wouldn't be going home for a long time.
2. Peter Barlow
Peter might have done some questionable things in his time, but killing Tina McIntyre isn't one of them. After starting an affair with Tina on the night of his wedding to Carla Connor, Peter went on to eventually be accused of her grisly murder. It was only after he had been sent down that Carla eventually put two and two together and realised it was actually her brother Rob Donovan who had committed the crime.
3. Deidre Rachid
Coronation Street found itself at the centre of a nation-wide campaign to free Deirdre after she was wrongly imprisoned for fraud in 1998 thanks to her boyfriend Jon Lindsay. But it wasn't just viewers who wanted to see Deirdre freed, even the then Prime Minister Tony Blair joined the 'Free The Weatherfield One' protests!
4. Max Branning
Max infamously went to jail for Lucy Beale's murder, despite the fact he had nothing to do with her death. The real culprit was Lucy's little brother Bobby Beale, and his adoptive mum Jane Beale had been covering for him, knowingly sending an innocent man to jail. Max later got out when the truth emerged, kickstarting his vendetta against the entire Square last year.
5. Mick Carter
Mick is currently facing a long stretch behind bars after being framed by 'frenemy' Stuart Highway for his attempted murder. Stuart's brother, Highway, is convinced that Stuart shot himself all in the name of getting revenge, but after Linda Carter threw the gun in the canal, it looks like she might have destroyed the one piece of evidence that could prove her husband's innocence.
6. Fiz Stape
Poor Fiz found herself in a right mess when she was locked up after being accused of three murders in 2011. She was, of course, innocent as they come, but after being married to killer John Stape, the police became convinced that she must have been involved and a jury sent her down.
7. Gail Platt
Gail faced a stretch inside after being accused of the murder of her fourth husband, Joe McIntyre. Joe actually accidentally died while trying to fake his own death during a boating trip in 2010, leaving innocent Gail to face a prison sentence for something she didn't do.
Fiz: ITV/REX/Shutterstock
Get the latest updates, reviews and unmissable series to watch and more!
Thank you for signing up to Whattowatch. You will receive a verification email shortly.
There was a problem. Please refresh the page and try again.