CAGED Mick Carter is DEVASTATED, says EastEnders star Danny Dyer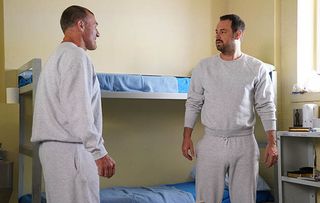 (Image credit: BBC / Kieron McCarron)
Mick Carter must learn quickly how to survive behind bars
EastEnders star Danny Dyer says Mick Carter is devastated about being betrayed by Stuart Highway and flung in jail.
Talking about the dramatic plotline which sees Mick imprisoned after being accused of shooting Stuart, the 41-year-old star reveals: "Mick's devastated about the whole situation. Stuart was one of his oldest friends and it kills him to think he didn't even know who the man was.
"I think Mick is thinking he won't be in prison for long. He's saying he hasn't done it, he thinks he'll be out in a matter of days."
But, even if he's freed quickly and that could be unlikely, Mick is faced with coping in a "dangerous" prison where he doesn't know the rules of the game.
"Mick's been sent to quite a dangerous prison," explains Danny. "I think as soon as he walks in he realises he's on his own and he has no friends in prison. For any sort of normal guy that goes into prison it's a real wake-up call and he needs to find his feet quickly. "
In an effort to get on, Mick decides he needs to get in with the bloke in charge of his wing.
"He realises that if you're gonna survive, you need to get in with whoever is running the wing. He realises that Fraser is that man. Mick needs a mobile phone, or a burner as you call them, he wants to ring his son Johnny to wish him happy birthday cos he doesn't want Johnny to know he's in prison."
The hugely popular actor adds: "He doesn't know the prison rules. He doesn't understand them. He just wants to stay out of trouble and do his time as quickly as possible so he's learning with every minute of the day. He has no idea how much trouble he's in."
Danny is now hoping that Mick will ultimately bring Stuart down and that being in prison will give him plenty of time to dream up a way of destroying Stuart: "I don't know what happens now but Mick is going to be slightly adjusted I would have thought as a human being. Ultimately he's going to want revenge for everything though. All you have in prison is your own thoughts and Mick's been thinking about Stuart a lot."
EastEnders continues on BBC1 as Mick Carter is arrested .
Get the latest updates, reviews and unmissable series to watch and more!
Thank you for signing up to Whattowatch. You will receive a verification email shortly.
There was a problem. Please refresh the page and try again.