Sean Wilson on his return as David's dad, Martin Platt: 'It was like waking up from a coma!'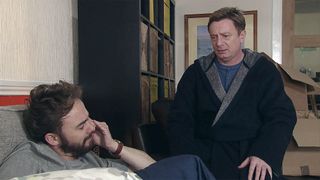 Corrie star Sean Wilson on being back in Weatherfield as Martin Platt
There's a blast from the past in Coronation Street next week - Gail's ex husband Martin Platt makes a comeback when son David – traumatised after his recent rape ordeal - pays him a visit in Liverpool.
It's thirteen years since actor Sean Wilson was last in Corrie. After quitting the role in 2005, he went on to set up The Saddleworth Cheese Company, and now has a raft of awards for his range of Lancashire cheeses - which include the quirkily-named "Hows Yer Father" and "Smelly Ha'peth".
The 52 year old talks David, dairies and why he'd love to come back to Weatherfield full time as Martin Platt...
What brings Martin back to the cobbles? "David is in one of the biggest predicaments of his life after being raped. Not only do you have the attack itself, but there's the aftermath and psychological effects. The more time goes on and David doesn't tell anyone, the worse it gets, but of course he has to unburden himself at some point - and that's where Martin comes in. Martin definitely knows there's something wrong, and starts to get very worried about David."
David with rapist Josh and mum Gail, Martin's former wife
How does Martin feel about being in Weatherfield again? "David goes to Liverpool to begin with, but then Martin knows he can't leave things as they are, and follows him back to the cobbles. He's outside the Platts, looking at the house and thinking, 'Oh, Jeez!'
"We did some scenes in the Platts' living room. I like to pride myself on being well prepared, but it was a bit weird. But I had a chat with the director and she said: "It was perfect, because it was bound to be awkward for Martin."
You were unhappy when you left Corrie 13 years ago. What has changed?
"There was a juxtapose of editorial thoughts at the time (Sean quit the soap after refusing to film a storyline in which Martin had a relationship with an underage girl). But things move on, and the people that were in charge have moved on. And the scripts were ace.
"There's a real positivity about the place, and there's been a real warmth from me. I had my first day in the salon with Jack P Shepherd (David) and it was as if I'd been in a coma for 13 years! I just walked onto the set and did the scene, and it was nice and easy. I couldn't have asked for a better way to come back. "
There's been a huge positive reaction about Martin's return. Were you surprised by that?
"I was surprised, of course I was surprised. But it's plain to me throughout the last 13 years that people are still warm to me. Every question is 'Would you go back? We love your character! When are you going to get back with Gail? My partner says, quite rightly, 'Every single comment is warm'. Thirteen years is a long time, but he's very well remembered and that's cool.
What was it like being reunited with Jack P Shepherd, who plays your screen son, David?
"Jack is still Jack and Sean is still Sean and we didn't take long to fall back in. In between scenes, we've been catching up with each other, family wise, and we've been talking about food. He says he can't cook and he wants to surprise the people he's living with at the moment, so I told him to do a chicken in brine. I said to him, 'Leave it in the fridge overnight and then cook it at 120 degrees for four hours and you'll blow their minds!'"
You're now an award-winning cheese-maker. How did you go from acting to making cheese? "I've always cooked, and when I was at Coronation Street the last time, I'd invite the cast round and cook fine food. I got really involved in the science of food and the provenance of food, and was invited to work at a Michelin-starred restaurant called Northcote, where I was introduced to a Lancashire cheese maker called Bob. He started teaching me, and I was lucky enough to have enough money to fund a business."
Do you have your own premises? "I did at first, but things got very expensive, so I found a farm in the Ribble Valley with a dairy and I hire the staff, who are now very well versed in making my cheeses. So they make them and then the cheeses go in rooms to mature – well actually, they go in caves; they're buried underground. It looks like something out of the Flintstones!"
What makes an award-winning cheese? "I decided from the start that if was going to make cheese, then it should be a Lancashire cheese of provenance, because that's where I'm from. You've not got the movement of milk, and it's milk from just one farm rather than ten different farms. That's the beginnings of a really good cheese, and then all the science comes into it..,which I won't bore you with!"
You're in Corrie for a guest stint – would you consider coming back on a permanent basis?
"Yes. I've had lots of thinking time since I was first asked to do this, and my character has so many different connections to other people in the show, and they're all good connections in my opinion. There's so much depth there that, editorially, it would have to be thought about. Whether the powers that be act upon it is completely up to them, but I'd definitely be up for it!"
Coronation Street continues on ITV.
Get the latest updates, reviews and unmissable series to watch and more!
Thank you for signing up to Whattowatch. You will receive a verification email shortly.
There was a problem. Please refresh the page and try again.