Coronation Street star Julia Goulding: Shona's ex goes after David's kids!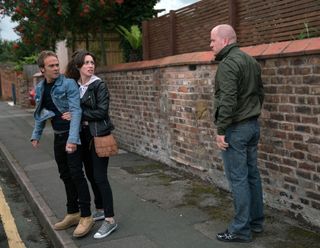 Shona Ramsey's ex, Dane, makes life very dangerous for her – and those around her, Corrie's Julia Goulding reveals to Soaplife
Shona Ramsey's history has caught up with her in the shape of her ex, Dane Hibbs. He's a nasty piece of work and he's a danger to David Plat and his family, Corrie's Julia Goulding tells Soaplife
What's the story?
Shona Ramsey's scratchcard win has turned out to be very dangerous, as it has dragged her ex, Dane Hibbs, out from under his rock and he has demanded that she hands over her winnings. "Shona just wants Dane out of her life for good and naively thinks the way to do this is by having her new fella, David Platt, meet him," Julia Goulding told Soaplife. Oh, she's so wrong…
What's happening in Corrie? See the latest storylines
Julia Goulding's Soaplife interview
Soaplife: What happens when David and Dane meet?
Julia Goulding: "Dane taunts David. The final straw is when he says something very nasty about David's dead wife, Kylie, who was killed by Dane and Shona's son, Clayton. David flies at him in a rage."
S: So then Dane turns on David's children, doesn't he?
JG: "Yes. He jumps into the car with the kids and locks the doors. Shona panics because she knows how callous, ruthless and mean Dane can be."
S: Why is Dane determined to cause trouble for Shona?
JG: "He hates that Shona is happy and able to move on. It's not because he is jealous or anything, he just doesn't want to see her enjoying life. He wants to keep control over her – as he has since their son was born."
S: Shona must feel that whenever she tries to make a clean break, the past comes back to haunt her?!
JG: "Yes. She could have as little contact as possible with Dane but, of course, Clayton is her son so there are emotional ties there. It isn't as simple as just putting the past behind her because the Clayton thing is always going to come up but she just wants to forget about Dane."
S: Do you think that David and Shona are a good match?
JG: "They give as good as they get. It's the first time that Shona has ever had someone who makes her laugh and is kind. And Shona is light relief for David after all the misery he's been through. I do think he genuinely likes her, so I really hope there is a future for them but it won't be a smooth ride if there is."
Coronation Street, ITV
Get the latest updates, reviews and unmissable series to watch and more!
Thank you for signing up to Whattowatch. You will receive a verification email shortly.
There was a problem. Please refresh the page and try again.