Shona Ramsey loves David Platt with all her heart but what he does makes her decide they're over reveals Coronation Street's Julia Goulding!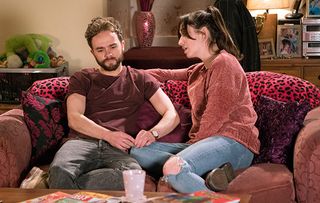 (Image credit: Andrew Boyce)
Coronation Street star Julia Goulding has revealed that Shona Ramsey is left hurt and confused by partner David Platt's sudden change of attitude.
Corrie café worker Shona Ramsey feels forced into making a heart-breaking decision about her relationship with David Platt. Actress Jula Goulding explained Shona's shock decision to Soaplife.
What's the story?
Shona Ramsey may be savvy and streetwise but she's at a total loss as to why her partner David Platt is being so off with her - especially as, not so long ago, they were so loved-up.
"He's become really angry, distant, snappy and short-tempered with Shona," actress Julia Goulding revealed. "She doesn't realise he's being like that with everyone, she presumes she must be the problem and thinks he no longer wants to be with her."
What's happening in Coronation Street? See the latest soap storylines.
Julia Goulding's interview with Soaplife about what's next for Shona Ramsey and David Platt...
Soaplife: So Shona's not feeling great about herself…
Julia Goulding: "She's not. David seems to have changed practically overnight and she can't, for the life of her, think why. She feels it must be her, which doesn't do a lot for her self-esteem. She's also moody and snappy herself because she thinks she's being lied to."
S: So Shona asks David why they haven't had sex lately, doesn't she?
JG: "Yes, and he has a go at her but then he comes on to her quite aggressively. Shona is completely at a loss - every time she tries to be loving towards him, he'll kiss her really passionately but then pull away."
S: How does Shona feel when David tells her he'll follow her up to bed but never materialises?
JG: "Really hurt. They end the evening on a nice note, having decided to forget about their problems, and having a cuddle on the sofa. Shona says she's going to bed and David replies he'll be up in a minute. But he doesn't arrive."
S: What happens next?
JG: "Shona finds him asleep on the sofa. She tells him to stop messing her about, saying she can handle it if he no longer wants to be with her. But David says he does. Shona's so confused because he's not showing her that at all."
S: Is this the end for them?
JG: "Shona loves David with all of her being but then he tells her he doesn't love her. So, she's adamant they're over – even though she's heartbroken and feels humiliated."
Coronation Street continues on ITV
Get the latest updates, reviews and unmissable series to watch and more!
Thank you for signing up to Whattowatch. You will receive a verification email shortly.
There was a problem. Please refresh the page and try again.