Conman on the cobbles... Doctors star Ian Kelsey joins Coronation Street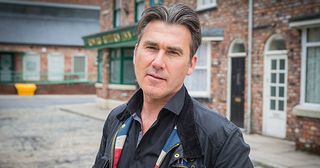 (Image credit: Joseph Scanlon)
Ian Kelsey talks about his move from kindly GP in Doctors to dastardly Phelan's scheming sidekick in Corrie.
Ian Kelsey makes a convincing medic. For three years he was Leatherbridge's practice manager Howard Bellamy in Doctors, and he also played heroic Patrick Spiller in Casualty, who died after saving half a dozen children in a minibus crash.
Now, however, Ian's bedside manner will leave a lot to be desired as he stars in Coronation Street as Vinny Ashford, crooked friend of Pat Phelan.
Vinny's got the patter. He wears quality shirts and drives a Range Rover, but according to Ian, you wouldn't trust him to sell you a stamp.
What is your character Vinny like?
"He is what you might call an old-fashioned confidence trickster. What makes him really interesting is that people want know what he is up to when he arrives. He may be nice to people and buy them a pint, but there's an ulterior motive…"
Have you always wanted to work at Corrie?
"I have always wanted to be on the cobbles. There have been a few opportunities in the past but I couldn't take them up, so I was chuffed to bits when this came up. My mum was a massive Coronation Street fan and I thought of her when I first walked onto the set. I know she is up there smiling down at me."
You played Dave Glover in Emmerdale in the Nineties. How does working on Coronation Street compare?
"I had very big hair back then and Dave looked like a lampshade at some points. What is incredible is that after 20 years I still get called Dave. I went on tour with the stage version of The Shawshank Redemption recently and when we played in Leeds, lots of people were shouting 'Dave!' at me.
Emmerdale felt very different to Coronation Street. I was filming outdoors a lot of the time. This was before they had built the fake village. We used to film in a place called Esholt, which had one street and a car park that could fit 13 coaches.
It was like doing live theatre because at any one point, there would be an audience of 400 watching. People would take photographs and ask for autographs during filming. It was crazy."
How are you finding the commute from Brighton to Manchester?
"I am around for a while, the story has a very definite arc, but it could lead to more. I have started off doing a day a week, so it is not too bad. The commute home is four and a half hours and I use that time to learn lines, so that I don't have to pick up the script when I am at home with the family, which is perfect.
One thing I have noticed is that it is like a different country in Manchester. I leave Brighton in a T-shirt, but by the time I get to Manchester I'm in need of a full Barbour jacket. I have done it the other way round, too, and got daft looks from people in Brighton when I disembark wearing a coat.
I haven't got any plans to move. Brighton suits us perfectly. I can pick up my girls from school and within 10 minutes we'll be sitting on the beach, looking out to sea."
Ian will appear on screens as Vinny in Coronation Street later this month.
Get the latest updates, reviews and unmissable series to watch and more!
Thank you for signing up to Whattowatch. You will receive a verification email shortly.
There was a problem. Please refresh the page and try again.